I love love love to throw a party. My friends call me Martha Stewart—sans the jail time. And sorry, but no one BBQ's like me!
Unfortunately, cooking at home has mostly been replaced by dining out as a means of entertaining. But there is nothing more gracious than entertaining at home. And hospitality isn't about your house, furniture or even the food. It's about the heart.
Make it easy on yourself by setting your table a few days before. Just remember that careful planning ahead of time will make for the most successful night.
The following party tips and menu suggestions will provide ideas for a spectacular party guaranteed to impress your guests gourmet style.
I will also share some clever ideas to keep your guests happy and occupied, and keep yourself stress-free from start to finish.
There are three secrets to a great indoor or outdoor summer dinner party.
The first is the grill.
The second is the grill.
The third? Yep. It's all about the grill.
Okay, maybe there are a few more secrets to a successful soiree. But the grill is center stage.
The most important part of planning is making sure that you are ready when your guests arrive. Prepare your food ahead of time, and keep your food choices as simple as possible. Expect a few guests to show up early, so make sure your sink is empty of dirty dishes, and you're enjoying your first glass of wine.
And use some of your creative juices to come up with a memorable tablescape that speaks volumes about your personal taste and fun loving personality.
Decorating your table doesn't have to break your budget. Simply rummage through your house for ideas and ways to use what you already have to make stunning settings.
To make the easy, delicious menu in this blog, all you really need are those "three" secrets―and, of course, a little prep work. (But only a little, I promise.) So gather your friends and family, follow my tips and tricks, and party hard!
Weather permitting, I usually set up inside and outside. But if the weather doesn't cooperate, I make my indoor tablescape as outdoorsy as possible.
I set up a wow-factor table with a mixture of lots of colors and various plate patterns. Rainbow colored paper napkins complete a party picnic atmosphere.
Go through all your platters and bowls and pick your most colorful. Add some grill pans, cast iron fry pans, and any other bowls and serving trays you can find to create a memorable and funky tablescape.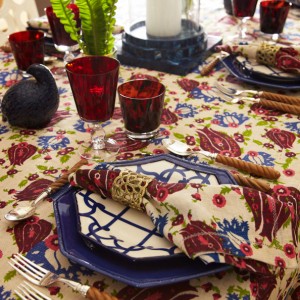 Have some fun with it! I like to mismatch glassware to add even more color and creativity. And don't forget the flowers. You don't have to spend a fortune, but choose some bright and cheery flowers in all sizes and place them in any old vibrantly colored containers. You can also take stemmed glassware and place them upside down over flower buds and then set candles or battery operated tea lights on top for a unique and beautiful floral arrangement.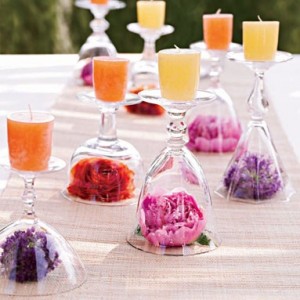 If you want to keep your party super casual, you can serve wine in regular drinking glasses. Set up the bar using brightly colored trays or plastic dishes to add color and flair to your cocktail set up. Good wine, top shelf Vodka, a martini shaker, and an extensive beer selection should be all you need for a simple bar set up. You can also whip up a pitcher of sangria or other signature drink. Add water and a variety of sodas and fruit drinks for the non-drinkers and designated drivers, and you should be set.
I usually set up an inflatable drink center. This allows bar access from all sides, prevents traffic jams, and looks impressive. Chill white wine two hours in advance, and make sure to put out extra ice, glassware, a bottle opener, corkscrew, and appropriate garnishes.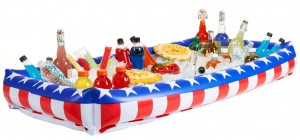 And if you're the creative type, you can make your own drink charms to identify drinkers with their drinks.
Turn holiday lights into summer sparklers and adorn your porch posts, railings and tree trunks.
And don't forget your favorite tunes! Nothing like a little music to get the party started.
Make sure to have plenty of appetizers set up in the kitchen. This way, when your guests want to chat it up while you're preparing dinner, there are plenty of good eats available.
My go-to summer dinner menu is to grill up some boneless shell and/or rib eye steaks, some lobster tails, and fresh corn on the cob.
My final menu touch is a beautiful salad. I usually go with a wedge salad with loads of halved cherry tomatoes, adorned with bleu cheese and bacon. I mean really, who doesn't like bacon?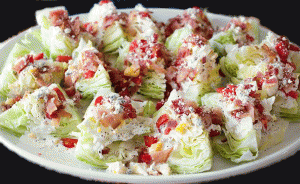 My second go to salad is romaine lettuce, olives, onions, sweet cherry peppers and cherry tomatoes set up like a flower garden. If you're on the fence about which salad to go with and have a lot of plant-eaters, prepare both!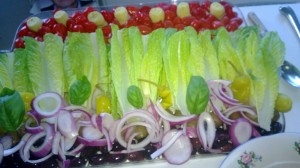 And don't forget some fresh bread.
If I have some extra time the night before my party, although not needed at all, I whip up my fave and easy-to-prepare boneless buffalo chicken (see all recipes below). I fry them and then finish them up in the oven the next day right before I begin my grilling.
And for the non-meat eaters, I usually offer a small sampling of cold poached salmon, and an assortment of veggie appetizers ordered from my local Middle Eastern restaurant.
For dessert, there is nothing like a fresh pie from a local farm with three or four containers of Haagen-Dazs ice cream flavors on the side. And okay, if you must, some fruit.
End the evening with a good strong pot of coffee.
Voila! PARTY TIME.
Steak on the Barbie
Note: Cooking time is based on an 8-10 ounce steak
Boneless Rib Eye and Shell Steaks (one 8-10 ounce steak per person)
Kosher salt (Kosher salt is less soluble and less dense than table salt and breaks down proteins and releases natural juices.)
Cracked Pepper
Season room temperature steaks with salt and cracked pepper before grilling. Arrange steaks on high heat on the grill and cook 4 minutes on the first side, rotating it 60 to 90 degrees midway through if you want to produce restaurant-style grill marks. The steaks are ready to turn when you begin to see moisture on the upper side of the steak. Turn the steaks over and continue to grill 2 to 3 minutes for medium-rare (an internal temperature of 135 degrees F), again rotating steaks 60 to 90 degrees midway through. For medium, grill steaks for 5 to 7 minutes (140 degrees F), for medium-well, grill the steaks for 8 to 10 minutes (150 degrees F). Do NOT overcook your steaks. You can always throw them back on the grill if they are not done enough for your guests.
Rest the steaks for approximately 5 minutes before serving.
Grilled Lobster tails
Lobster tails (1 4-ounce tail per person)
Butter
garlic or shallots
parsley
lemon
Kosher salt & pepper
Defrost lobster tails, if frozen. While lobster tails are still defrosting, cut away and remove the thin underside membrane entirely with sharp kitchen scissors, leaving flesh fully exposed.
Melt butter in a small pan and sauté the garlic or shallots for 1-2 minutes or until soft. Squeeze in some lemon, fresh parsley, and a little kosher salt and pepper. Brush some of the butter mixture onto the lobster meat.
Place lobster tails, flesh side up on the grill for 3-5 minutes or until the shells turn bright red. Brush meat again with butter mixture, and turn and grill for 3-5 minutes or until flesh turns white. Turn the meat flesh side up once more and add more butter mixture. Turn the flesh side down again only if needed, and cook for 1-2 more minutes. Place lobster tails on a platter garnished with lemon wedges and fresh parsley sprigs. Serve with remaining melted butter mixture.
Teri's Delish Boneless Buffalo Chicken
You gotta have hot sauce:
1 1/2 cups hot sauce + 1/2 heaping teaspoon cayenne pepper + 2 Tablespoons butter + 2 Tablespoons water = Yum
Hot Sauce:
Place sauce ingredients above in a small pan and simmer 4-5 minutes until well blended. Remove sauce from heat and set aside.
Chicken:
3 cups flour
1 ½ cups buttermilk (Fat-free works too)
3 pounds skinless chicken breast (1" thick – cut into 2" x 2" pieces)
1 ½ teaspoon salt
¾ teaspoon ground black pepper
Peanut Oil (vegetable oil is okay too)
Celery sticks
Mix flour, salt, and pepper in a bowl. Place buttermilk in a separate bowl. Cut chicken into pieces. Heat oil for frying.
Place the chicken pieces in flour, then dip them into the buttermilk and back into the flour. Shake off any excess flour and carefully place chicken pieces into hot oil and fry until golden brown. Remove chicken pieces and drain on a paper towel. When all the chicken has been cooked and drained, place them in a large container.
(You can stop here, refrigerate the cooked chicken, and pick up the recipe the next day.)
When you are ready to serve the buffalo chicken, cover the cooked pieces with half the hot sauce and gently stir until all nuggets have been coated.
Then place the chicken pieces on a non-stick baking sheet and bake in a 350-degree oven for 10-15 minutes. Serve with the rest of the hot sauce, bleu cheese dressing and celery sticks.
Iceberg Wedge Salad
Iceberg lettuce (one-quarter wedge per person). Halved cherry tomatoes (red and yellow if possible)
Bacon (two slices crispy cooked bacon per wedge cut into ½-inch pieces)
Fresh crumbled bleu cheese
Bleu cheese dressing (I like Marie's)
chopped egg (optional)
Discard outer leaves of the lettuce and quarter each head through the core so that each quarter holds together and place them on a large serving platter.
Sprinkle halved cherry tomatoes over each wedge.
At this point, you can sprinkle the crumbled bleu cheese, bacon, and bleu cheese dressing on top of the salad and serve immediately. Or if you prefer, you can serve the iceberg and tomatoes on a platter, with the crumbled bleu cheese, bacon, and bleu cheese dressing on the side.
Romaine Flower Salad
Head of romaine lettuce
Artichoke hearts
Cherry tomatoes
Sweet red cherry peppers, cored
Red onion sliced
Pitted black olives
Pitted green Olives
Pepperoncini
Basil leaves
Lay out the romaine lettuce leaves on a large platter. Place the cherry tomatoes and sweet red cherry peppers at the top of the platter and place the artichoke hearts in between as shown in the photo. Add the black olives on the bottom of the tray and place some green olives above them. Place pepperoncini on the bottom of the romaine, and add basil leaves.
Corn on the cob
Corn
Olive oil
Kosher salt & pepper
Water
Aluminum foil
Shuck the corn and place each ear on a separate piece of aluminum foil. Sprinkle salt & pepper, and a little olive oil on each cob. Take a teaspoon of water and add it to each cob. Then roll up the corn with the aluminum foil and grill them on high for 15 minutes, turning occasionally. Place the corn on a platter either with or without the aluminum foil.