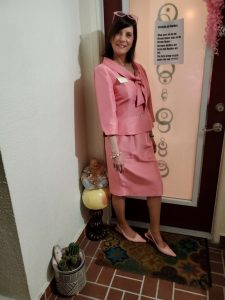 I flew to Florida last week for a girls-only Barbie Party.
And I'm so happy I did. The camaraderie was infectious, and I hadn't felt that carefree in years.
We all wore Barbie name tags and enjoyed many "Hi Barbie" moments, just like in the movie. I thought the movie was going to be flimsy and transparent, but oh, no, it wasn't. The summer blockbuster actually moved me to tears.
In between watching the film, we toasted to sisterhood and hugged each other a little harder than usual. I was also reminded of how huge of a part Barbie played in my younger life.
We playfully bestowed upon each other Barbie nicknames because, bottom line, girls just want to have fun.
There was Black Barbie, Hall Monitor Barbie, Lesbian Barbie, Divorcing Barbie, Hostess with the Mostess Barbie, Rock Star Barbie, Workout Barbie, and Party Hardy Barbie, to name a few.
I was Bat Mitzvah Barbie because the last time I wore my bubble gum pink suit and matching kitten heels was at my daughter's Bat Mitzvah — in 2001!
We were all glued to the part in the film when America Ferrera's character Gloria, a Mattel employee and mother, delivered a powerful monologue to Margot Robbie Barbie, who was going through a crisis after the Kens turned Barbie Land into Ken Land.
Every word in that monologue hit me hard and reminded me of my resilience, my inner strength, my courage, my silent triumphs, and the incredible journey that I've been on:
"You are so beautiful and so smart, and it kills me that you don't think you're good enough. It is literally impossible to be a woman. We have to always be extraordinary, but somehow, we're always doing it wrong.
You have to be thin but not too thin. And you can never say you want to be thin. You have to say you want to be healthy. But also, you have to be thin.
You have to have money, but you can't ask for money because that's crass.
You have to be a boss, but you can't be mean. You have to lead, but you can't squash other people's ideas.
You're supposed to love being a mother but don't talk about your kids all the damn time.
You have to be a career woman but also always be looking out for other people.
You have to answer for men's bad behavior, which is insane, but if you point that out, you're accused of complaining. 
You're supposed to stay pretty for men but not so pretty that you tempt them too much or that you threaten other women because you're supposed to be a part of the sisterhood.
But always stand out and always be grateful. But never forget that the system is rigged, so find a way to acknowledge that but also always be grateful.
You have to never get old, never be rude, never show off, never be selfish, never fall down, never fail, never show fear, never get out of line.
It's too hard. It's too contradictory, and nobody gives you a medal or says thank you."
As the mom of a daughter, Ruth Handler, the creator of Barbie (played by Rhea Perlman), said something to Margot Robbie's Barbie that will stay with me for a long time: "We mothers stand still so our daughters can look back to see how far they've come."
By the night's end, I felt like 20 instead of my still-trying-to-come-to-terms-with-my-age-of 70.
And I couldn't wait to call my husband to tell him I love him and that I appreciate and miss him.
And the moral of the Barbie Movie for me?
Women must embrace their empowerment while respecting men's struggles and never disregarding their feelings. No Barbie or Ken should live in anyone's shadow; everyone has value — extremes of masculinity and femininity damage everyone.
The real world can be challenging and complicated, so we men and women need each other while never forgetting the power of motherhood and sisterhood.