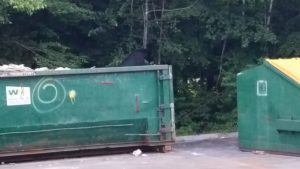 I was minding my own business while parking the car at our hotel in New Hampshire last week. I wasn't crazy about parking next to the garbage bin, but there weren't a lot of spaces available.
After getting out of the car, this is what I encountered.
This bear video #1 below was recorded by my husband, while I stuck my head out of the mostly closed car window.
Then I got stupid nerve and recorded the bear for myself.
This bear video #2 which I recorded was cut short when Mr. (or Ms.) Bear looked in my direction, and then jumped down from the bin…
…because well..
I was running and yelling like a banshee…