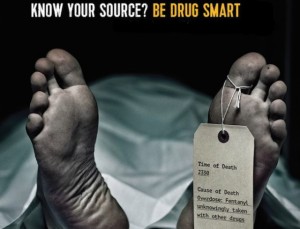 Fentanyl, yet another opioid fueled by prescription painkiller use, is the latest and greatest killer drug.
The narcotic fentanyl, a synthetic anesthetic is so powerful that outside of operating rooms, prescription use is restricted to long-acting patches, lollipops, and lozenges and is up to 50 times more potent than heroin.  It's also cheaper than heroin, and just a tiny bit of fentanyl which has been used to treat severe pain since the 1960's, is fatal and quickly becoming an epidemic. It is so potent that an amount the size of three grains of sugar can kill an adult.
In the past two years massive amounts of Illegal fentanyl has been making its way to the United States via Mexico at a record pace, and in many states is killing more people than heroin. Fentanyl is often combined with heroin or sold as heroin, and in many cases, addicts have no idea if they're buying heroin, heroin laced with fentanyl or straight up fentanyl.
As an example, in mid March, six people died and 22 overdosed in less than a week's time in Sacramento California due to taking fentanyl in pill form. The victims thought they were taking Norco, a prescription drug used to treat pain.
Fentanyl acts on the part of the brain that controls breathing so within minutes of using fentanyl-laced heroin, there is a chance of losing consciousness, and in the worst scenario breathing stops entirely causing death.
Ruthless Mexican drug cartels who smuggle their fentanyl-laced heroin across the border, call it "El diablito," which translated means "the little devil." These Mexican Transnational Criminal Organizations (TCOs), operate both in Mexico and in the United States. Once the drugs have been smuggled into the United Sates from Mexico, they are delivered to an extensive network of family and friends who run drug-trafficking operations in our towns, villages, and neighborhoods.
We don't need Donald Trump to tell us that our border with Mexico is not secure, with no serious border security plan in the works. And I'm no fan of the Donald, but if his idea to build a wall on the Mexico border could stem the flow of killer drugs, we should seriously think about it.
The National Border Patrol Council, which represents 16,500 border agents, recently endorsed Trump. According to their written statement, this is the first time they have ever endorsed a presidential candidate. Their endorsement of Trump went on to say that "there is no greater physical or economic threat to Americans today than our open border."
The mere fact that the National Border Control Council has embraced Trump is a testament to the dire porous border situation.
The Council went even further by asking "the American people to support Mr. Trump in his mission to finally secure the border of the United States of America before it is too late."
Now "too late" seems a little over the top. But according to many recent polls, killer narcotics are the number one concern for voters—above the economy or education. So securing the border once and for all, can only help that front, right?
But why do we need to support Trump? He can't be the only one out there that worries about our border. Wake up voters and start demanding more from our elected officials.