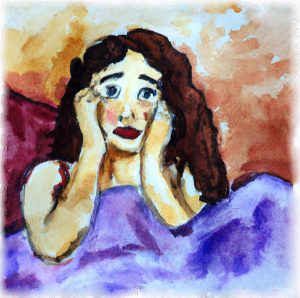 I had a boatload of to-do items on my list for this past Monday, March 20:
Email an assignment to my ColdFusion tech guy, finish decoupaging an old end table, add an article on my website Worldpress.org, post another chapter of My Stolen Diaries on my blog, The Teri Tome, write an inscription in a Maya Angelou book I was mailing to my friend Kathy, swing by the post office to drop off two packages before getting a mammogram/sonogram, and then dinner at 7:15 with a friend.
Whew. It was going to be a busy day.
But then, at 3:30 am, I woke up drenched in dread and sweat after interrupting an awful dream — about him. As I tossed and turned, unable to will myself back to sleep, I asked my dead grandmother to send me a sign to help me get through the day.
I was sleepless in New York, so I went down to my desk, wrote the inscription below, and taped it into the front pages of Maya Angelou's poetry book titled Phenomenal Woman:
For Kathy,
I'd like to think that, like Maya Angelou,
sharing some, but not yet all, of my truth
has helped me to rise above insecurity,
abandonment, guilt, abuse, regret, shame,
remorse, sadness, depression, and who
knows what else. And yet I have somehow
managed to rise.
I have often described myself as a bird with
a broken wing — maybe two. A fragile bird
afraid to sing and unable to fly.
Not because of my impoverished, chaotic
upbringing. But because my metaphorical
cage was and still is, my inability to say his
name — not through song but through words.
I still carry deep remorse for many things
that happened or didn't happen in my past.
Even the tiniest regret leaves me wondering
how I missed the things worth stopping for.
Like you, Kathy. How sad we didn't get to
know each other very well at Brevard. I
am convinced that we would have been
great friends.
But I have learned through my sometimes
painful, often weary, yet wondrous seventy
years that it is never too late to surround
myself with brave, phenomenal women.
A phenomenal woman, that's you.
~Teri 3/20/23
By the time I finished writing, taping, and packaging, it was time for a shower, followed by a strong cup of coffee and the New York Times. To say I was emotionally spent would be putting it mildly.
But then there it was. The sign.
In the New York Times, there was an article about filmmaker Jennifer Fox (my grandmother's last name), who, after a half-century of refusing to name her sexual abuser, had finally come forward with his name almost two years after his death. She identified him as Ted Nash, a two-time Olympic medalist in rowing — a legend in his sport.
In 2018, Fox wrote and directed The Tale, an acclaimed American drama about her pieced-together memories of sexual abuse when she was 13, at the hands of an older man, but she never revealed his identity.
Fox recently told the New York Times that she finally said his name because she wanted abusers to know that even death wouldn't spare them from being found out.
The last paragraph in the article was a quote from Fox, and it gave me the chill bumps:
"The adult part of me wants to move on, but that child in me, she wants to face him and get it over with and name him. There was a part of me saying, I will not let you rest until you name him."