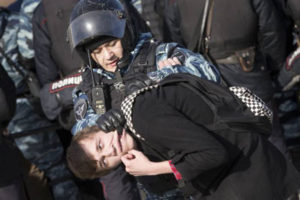 I watched with much hope and heartbreak on Sunday as Russian demonstrations took place in 99 cities and towns across the country despite the Kremlin declaring the protests unauthorized and illegal and Russian authorities urging people to stay away.
From Vladivostok in the far east to Kaliningrad in the west, tens of thousands of demonstrators took to the streets.
What really struck me were the baby faces of most of the protesters. These young people have never known any other leader except Putin and his regime, and they made their feelings extremely clear, at great peril to their lives. The actions of these young protesters were beyond courageous.
Sunday's crowds were believed to be the largest anti-government protests since 2011 when fraud allegations in parliamentary elections sparked uprisings.
As you may or may not recall, Putin blamed then-Secretary Hillary Clinton for "inciting mass protests against his regime in late 2011 and early 2012."
State-run news outlet Tass reported that 8,000 people had taken to the streets in Moscow, but human rights groups came up with their own numbers: Approximately 30,000 people demonstrated in Moscow, and up to 10,000 in Saint Petersburg alone.
To be clear, when the authorities in Russia urge their people to "stay away," this is not a friendly request.
As a result of the anti-corruption protests, hundreds of demonstrators, including top Kremlin critic Alexei Navalny were arrested, and many beaten.
What does this mean for Navalny? The fact that in the past five months, eight prominent Russians are dead does not bode well for him.
And Putin? With approval ratings around 80%, it's doubtful any significant threat will arise.
And yet, these poor kids demonstrated anyway.
Russian authorities have claimed that the official number of those arrested was 500 in total, but rights groups disputed that claim and said that between 700 to 1,000 individuals were detained in Moscow, at least 34 in Saint Petersburg, and between 80 and 100 in other cities. Putin's strongmen also swept up scores of journalists attempting to cover the protests.
And the Trump administration? They were quiet for much of the day until Republican Senator from Nebraska Ben Sasse expressed outrage and said this: "The United States government cannot be silent about Russia's crackdown on peaceful protesters."
Sasse's statement forced Mark Toner, the acting State Department spokesman, to finally make one of his own on Sunday evening  calling Russia's action's "an affront to core democratic values."
But, not one peep or tweet from Trump, and the White House never issued a statement.
Where's the outrage?
Oh, and as an aside, a U.S. intelligence report released in January blamed Russia for meddling in the 2016 presidential election, based in part as a result of Hillary Clinton's remarks during the 2011 anti-government protests in Russia.  The report went on to state that the episode led to Putin's campaign "to undermine public faith in the U.S. democratic process, denigrate Secretary Clinton, and harm her electability and potential presidency."
The email below was sent to me yesterday, 3/27/17, from a journalist friend of mine, who is on temporary assignment in Moscow.
Good day my friend,
As you know, for almost two months I have been in the Russian capital.
I have been soaking up the local scene and leading a nice, normal, and quiet, existence here, much like the one I left back in Canada.
I have been going back and forth to the institute which invited me here as a "researcher."  But on Sunday a strange occurrence took place.
I am often referred to here as "an honourable outcast," "friendly foreigner," or "stranger."
But like the locals, I tend to stroll in Gorky Park, to take in the first days of Spring, watch the kids and dogs play, much as I would if I were in New York's Central Park or Les Jardin du Luxembourg in Paris.
I enjoy my weekend brunch routine at the "Garage" Museum of Contemporary Art of poached eggs and salmon, with a large cup of black American coffee.
And as you know, I try to conduct myself as a civilised, cultured, left-leaning Western intellectual, albeit a financially stressed "freelance" journalist with an edge, or flair for, international news reporting.
 After brunch and watching the affluent couples chat or flirt, or show off their new i-phones, I  took off for the metro, but one of the main lines was under 'remont' in Russian, meaning repair.
I thought this was odd and as it turned out, was actually a precursor to more bizarre events that took place this past Sunday afternoon in the Russian capital.
I ended up in the Arbat district on my way to the Lev Tolstoi Pub, where I usually go to hang out to think and write. It is a hip and struggling establishment popular with local expats, students, and artists.
When I arrived at the pub, I was shocked to realise it had been shut down. A Brit friend explained to me that it was probably because if they wanted to stay open, they had to pay a "pizzo," or the "b-word" to remain in business.
This local spot apparently did not pay, and hence the harsh penalty imposed. I was rather livid, as the location is in a lovely courtyard and actually mentioned in the great Russian novel "War and Peace."  
I then proceeded to the city centre where there were plenty of riot police, buses and vans circulating down the major boulevards. My reporter's instincts told me there was "action" in the area.
As you know, I have experience with this type of activity as someone who was in Warsaw in 1981 under martial law and in Moscow in August of 1991 during the failed coup. I was also in Mexico City in 2012 when there were huge protests in support of an opposition candidate for the Mexican presidency, Lopez Obrador.   
I walked towards Pushkin Square, with the hunch that there might be activity on Tverskaya Street, a fashionable part of the central city core. And my hunch was right.
I  walked into a courtyard where there were plenty of Land Rovers and other fancy cars parked, as well as several beauty salons and spas; I assumed for the wealthy Russian ladies.
But in this courtyard, not far from a 1947 style apartment complex, there was a dingy dive called "X" on the third floor.
I climbed the stairs, opened the big black door,  and there inside the large loft sized space, were young fellows and gals in their 30's watching a live stream feed of the massive protests going on in Moscow, Saint Petersburg, Samara, and other cities.
I ordered a pale ale and talked to the local crowd. A young fellow told me how he thought it was time for a change in the upper circles of power and how the Russian economy was stagnating and inflation and the high cost of everything from food to heating were eating away at people's savings.
He also informed me about the corruption allegations made by the recently arrested opposition leader. We all watched the protests, and I decided not to proceed further to Pushkin Square for several reasons.
I am from Canada, a country not well liked by the Russian government at this point in time. I am not yet officially accredited, and I don't know when that will happen. Plus my visa is running out; I only have 35 days left, so I am in need of an extension hence my current fate depends on the whims of officialdom or a faceless bureaucracy.
But above all, according to the media reports, my journalist colleagues were being detained during the protests, so I stayed put and did not budge.
The young Russian and I talked for some length of time about Russia today while watching the street action on the screens. The Russian protesters are a generation which grew up in the post-Soviet post-communist era.
They are passionate, highly educated, and entrepreneurial.
They long for a "normal" or liberal democratic system, without the wild west corrupt and venal capitalism, we know well exists in the "west."
Cheerio from Moscow