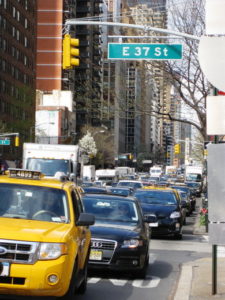 Photo: View of Second Avenue traffic leading into Queens Midtown Tunnel
Yesterday my husband and I drove into Manhattan from our house on the Queens border. We left at 4:15 pm, in plenty of time to make a 6:45 pm wedding at the Pierre Hotel on 61st and Fifth Avenue. The distance from our home to 61st Street is 20.3 miles and should take approximately fifty minutes with traffic, but one never knows what to expect, so we tuned into WCBS 880 radio as we always do.
The traffic report said one lane was closed in both directions at the Midtown Tunnel but did not report any significant traffic congestion so we assumed mild delays, and decided to take that route into the city. As we approached the Midtown Tunnel, approximately 1/4 of a mile away from the toll booths, the traffic was appallingly at a complete standstill.
We inched along for close to two hours before we finally got to the toll booths. As we waited to go through, I asked a traffic officer, who was busy eating a bag of potato chips, what the problem was. She curtly answered, "One lane going into Manhattan." I replied to her that the situation was disgraceful.
Since we had nothing better to do under the East River, we tuned in again and again to WCBS 880 for their traffic report, shocked that this melee wasn't major traffic news.
Despite tens of thousands of cars literally at a standstill in and around the tunnel, the traffic report said absolutely nothing about the situation except that there were delays due to lane closures.
Delays? This was a complete traffic meltdown.
I was astounded that no traffic officers were assisting in the chaos of the five lanes of crawling snarling traffic in front of us. Cabs were blocking two lanes, drivers were angrily sideswiping each other, and everyone was aggressively maneuvering to be the next vehicle to gain access to the one lane going to Manhattan. It was the worst traffic congestion I have ever witnessed, and it was not only alarming but potentially dangerous.
Now I don't know the pecking order of what the bridge and tunnel officers can and can't do. But it seems to me that thousands upon thousands of motionless vehicles for miles, a snarl-up of drivers fighting to get into the tunnel, and the tunnel jam packed and unmoving, should evoke action on someone's part, don't you think?
And I would hope that one of the many officers I saw standing around near the toll booths, including the woman who was eating a bag of chips, was in charge. One of those officers working at the tunnel had to know what was happening at the entrance and the exit of the tunnel, right?
Since the traffic in, out and around the tunnel was at a dead stop, it would seem to me that anyone with a brain would know that something was amiss, no?
As my husband wound his way in and out of traffic, almost getting sideswiped numerous times, intently and courageously attempting to get into the one lousy tunnel lane, I kept asking myself why there wasn't anyone directing traffic.
Put your bag of potato chips down, and do something.
Once we got into the tunnel, we crawled through it for almost an hour. It was evident as we sat in an automotive deadlock in the dark, dank, claustrophobic tunnel for four to five minutes at a shot, then inch forward for a few feet, then back to a dead stop, that there must be something very wrong happening at the exit.
As the fumes from the other cars began to seep into our vehicle, I was fuming with anger and frustration.
This is what's wrong with our country, I kept saying to myself. No infrastructure, total mismanagement, and a complete lack of respect for others.
Was it possible that no one in charge was aware that the Midtown Tunnel was at a complete standstill?
When we finally got out of the tunnel, there were two officers mostly ineffectively directing traffic in two directions:  Left, or right to 39th Street. One traffic officer would have been sufficient. Send the other one somewhere else. We regrettably turned right.
It was no surprise to us that there were no traffic officers at 39th Street and 2nd Avenue, where hundreds of cars were trying to exit the tunnel and cross over. And from the gridlock on 2nd Avenue, it was disappointingly obvious there were no traffic officers anywhere in the vicinity.
The cars on 2nd Avenue were completely lawless, with no regard for their fellow drivers, and blatantly ignored the yellow and red lights. The gridlock on 2nd Avenue was bumper to bumper, which did not allow for one car to get across it—thus the real problem at the Midtown Tunnel.
This massive traffic jam was not caused by lane closures. The real traffic culprit was that there was absolutely no way to exit the Midtown Tunnel because of the clogging of 2nd Avenue.  A handful of traffic officers could have solved most of the problem.
Now I am usually a very calm person, but I was beyond incensed at the massive traffic jam, the disgraceful mismanagement and complete lack of consideration and planning for the Midtown Tunnel lane closures, as well as not one officer on duty to direct 2nd Avenue traffic.
We finally arrived at the Pierre Hotel around 8 pm, an almost four-hour odyssey to travel less than 21 miles. Needless to say, we missed the wedding ceremony and the cocktail reception. I was so carbon monoxided out, I could barely enjoy the rest of the evening.
Am I the only one who is furious and exasperated by the complete lack of management, bad judgment, utter disrespect and ambivalence for drivers, and the enabling of vehicle lawlessness?
I don't know who's to blame: Mayor de Blasio, Governor Cuomo, the New York state legislature, the Triborough Bridge and Tunnel Authority, the MTA?
What I do know is that the lack of proper management and policies will continue to condemn New York City to years of epic traffic dysfunction.
Shame on all of them.