Way before Covid, I was working on two projects:
I needed to come up with a blog post idea
I was simultaneously trying to create a playlist for a dinner party I was hosting that weekend
Project #2 was easier to tackle, so I furiously typed out some of my favorite songs. As I scanned the list, I started typing in the memories I associated with the tunes.
The final result was an impressively diverse playlist, with some of my backstory thrown in.
I broke down the songs/memories into four distinct parts:
* Pre-party * Drinks * Dinner * Dessert
And voila — my life in a playlist in a blog post!
The pre-party setup can be stressful, so classical music helps take my mind somewhere else. It's my party, and I'll play classical music if I want to.
When I was five, my mom was in her early twenties and held two jobs. During the day, she worked at a local factory, and at night she worked at Arthur Murray Studio as a ballroom dance instructor. My first introduction to music centered around whatever accompanied the Waltz, the Tango, and the Foxtrot.
I once proudly watched my mother gracefully waltz to the first classical piece I ever heard, so about forty-five minutes before my guests arrive, I'll start with:
The Blue Danube – Johann Strauss
Air on the G String – Johann Sebastian Bach
Whether you prefer the Bach original Air or violinist August Wilhelmj's late 19th-century stunning take titled Air on the G String (G string being the violin), both are stunningly moving. But this Stjepan Hauser's chilling rendition has his cello whispering air.
Prelude in C minor, Opus 28, Number 20 – Frédéric Chopin
I don't know how Barry Manilow got away with ripping off this classical classic in his song, Could It Be Magic. Manilow's melody is based almost entirely on Frédéric Chopin's Prelude in C minor, Opus 28, Number 20.  I hated the Barry Manilow song, but I disco-danced to Donna Summer's Could It Be Magic version at Studio 54 uncountable times.  If there weren't so many awkward oohs and ahhs, it would have made my playlist.
In 1961, at around eight years old, I began taking piano lessons from Sister Regina Mary, who further set in motion my love for, and appreciation of composers like Beethoven, Bach, and Strauss. The intricacies of each movement I played made me appreciate the allure and the angst of melodies that needed no lyrics to evoke myriad emotions.
Beethoven was my favorite classical composer, primarily because not even his deafness could stop his otherworldly genius.  He created music for the ages — some of his most beautiful pieces came after he could not hear.
Moonlight Sonata – Ludwig van Beethoven
Moonlight Sonata is the first piece I semi-mastered on the piano. It remains my all-time classical favorite, and I still play it on my keyboard. The melody is desperate, yet tender; happy, yet melancholy. And oh, the chilling beauty of those three sorrowful notes.
Sonata No. 21 in C major, Op. 53 – Ludwig van Beethoven
This Beethoven piece was Sister Regina Mary's favorite, and she played it brilliantly. I love Valentina Lisitsa's rendition.
And speaking of Beethoven, who didn't love…
Roll Over Beethoven – Chuck Berry
OR…
A Fifth of Beethoven  – Walter Murphy
IT'S COCKTAIL TIME!
Going back to as early as 1956, the three women who raised me taught me to love music. Here are some of my all-time favorites:
Hound Dog – Elvis Presley
I was only three years old in 1956, but I vividly remember singing along to this song in our apartment on Huron Street in Bridgeport, Connecticut.
The Twist – Chubby Checker
In 1960 everybody was doing the twist.
You Really Got Me – The Kinks
This 1964 hit song was my first introduction to heavy metal.
I Got You Babe – Sonny and Cher
In August 1965, my grandmother's ex-boyfriend, Steve the butcher, saw me walking on Success Avenue in Bridgeport. He pulled his car over, kissed me on top of my head, and handed me two twenties. I bought a killer pair of red-checkered bell-bottoms, a white ruffle crop top, and a transistor radio. All of the popular radio stations were playing I Got You Babe nonstop. My grandmother demanded to know where I got all that money, but I never revealed it.
I Can't Help Myself – The Four Tops
You Can't Hurry Love – The Supremes
Brown Eyed Girl – Van Morrison
In 1967, at age fourteen, my eighth-grade St. Ambrose friends would sing this song to me as a joke. I was poor, but I was happy. That was until I moved from Bridgeport to Westport that summer, which changed my life — and not in a good way. I never saw my Bridgeport friends again. What a difference eleven miles can make. Some would have called it rags to riches. I used to call it rags to bitches.
NOW FOR THE DINNER MUSIC.
But first, a story about someone who made a massive impression on me during a difficult time in my life.
My time in Westport took a turn for the better when in 1968, I met a young woman named Sally White, who worked in the Record Department at Klein's Stationery on Westport's Main Street. Sally knew everything there was to know about music, so my Saturdays usually consisted of a trip to Klein's to visit her, listen to whatever she was playing on the record player, and buy some 45s.
We bonded immediately, maybe because I shared her love of The Temptations, Dion, Richard Harris, Dionne Warwick, Marvin Gaye, Jimi Hendrix, Aretha Franklin, Traffic, and Nina Simone, to name a few.
Sally would guide me through the latest and greatest artists, albums, and top 10.  I could walk in and give her two or three words in a lyric, and she would immediately know what song it was. And while a song's tune was the catch, we both agreed that the lyrics inspired and fueled the soul.
Below is my selected playlist of dinner music songs in honor of Sally's recommendations all those years ago. She sadly passed away in 2017.
The Times They Are a Changing – Bob Dylan
Sally was obsessed with Bob Dylan because she thought he was a genius at exploiting racism, social injustice, and poverty — something I was all too familiar with from my Bridgeport years.
MacArthur Park – Richard Harris
This 1967 song was written and composed by Jimmy Webb as part of an intended cantata about how Webb found and then lost the love of his life. The song consists of four sections or movements. All of them are incredible, but the second and third movements are my favorite. The second movement starts with the words "There will be another song for me," followed by the third section, which is entirely instrumental, led by drums and percussion, punctuated by horn riffs, and beyond amazing.
"There will be another song for me, for I will sing it. There will be another dream for me, someone will bring it." This verse gets to me every time.
Cry Like a Baby – The Box Tops
At the beginning of 1968, I still had no friends, so I routinely and pitifully danced to this song alone in my room in front of a full-length mirror — and sometimes cried like a baby. Thank God for Sally!
Simon & Garfunkel – Bookends
Simon & Garfunkel released this song on April 3, 1968, on my 15th birthday, and I took it as a sign. To know me is to know that I can find a sign in anything. I still had no friends, so in desperation, I invited the popular girls over for a birthday slumber party, but most of them politely declined. Only one said yes, and she helped me turn everything around, and we remained the best of friends for years and years. We were indeed bookends. "Preserve your memories; they're all that's left you."
Hey Joe – Jimi Hendrix
I learned about "drum fill" from Sally. As a piano player, I had no musical interest in drums — that was, until Sally and Hey Joe. I also recall slow-dancing to the song with a boy I had a massive crush on at some fancy-schmancy Westport, Connecticut Ball. I think it was the Holly Ball, or maybe it was the Cranberry Ball, or the Mulberry Ball, or the Poisoned Ivy Ball — some such ridiculous Waspy-ass name. I'm sure my dance partner has zero recollection because I've seen him at many high school reunions, and he's never mentioned it.
Theme From Valley of the Dolls – Dionne Warwick
Regarding Valley of the Dolls, Sally explained that I could buy the 45, but as far as she was concerned, I was too young to buy the racy book or go to the movie. After purchasing the 45, I rushed to the book department, snatched up the novel, and in between voraciously reading it, hid it between the mattress and box spring of my bed.
No Expectations – Rolling Stones
People Got to be Free – The Rascals
In July 1968, I was working as a Mother's Helper in Westhampton Beach, New York. I first heard The Rascals song at a bonfire party on Hotdog Beach with a bunch of townies. Westhampton-rich made Westport-rich look poor.
Dance to the Music – Sly and the Family Stone
Dance to the Music came out in 1968. And I confess to dancing on the bar with my friends to this song at Rialto's in Port Chester, New York, while underage drinking.
Everyday People – Sly and the Family Stone
By 1969 I had plenty of friends, but this song reminded me of those lonely couple of years. "There is a long hair that doesn't like the short hair for being such a rich one that will not help the poor one. Different strokes for different folks."
Woodstock – Crosby, Stills, Nash & Young
I was supposed to go to Woodstock with my cousin Pam and two of her guy friends on their motorcycles. I chickened out at the last minute. She went without me, but they had to turn back because the New York State Thruway was infamously shut down.
Low Spark of High-Heeled Boys – Traffic
Around 1971, Sally introduced me to this remarkable song written by Jim Capaldi and Steve Winwood. The piano solo is insane.
TIME TO WRAP IT UP WITH DESSERT:
Long Legged Guitar Pickin' Man – Johnny Cash and June Carter
I was first introduced to country music when I got to Brevard College in the heart of the Blue Ridge Mountains in Brevard, North Carolina. I started listening to the Carter Family, Conway Twitty, Merle Haggard, Dolly Parton, and of course, Johnny Cash and June Carter. I found the flirty banter between Johnny and June almost as good as their singing.
Come Down in Time – Elton John
Back in 1971, this was the first Elton John song I ever heard. He had me at "I came down to meet you in the half-light the moon left."
Back Stabbers – The O'Jays
I discovered that backstabbers in Connecticut were no different than those in North Carolina.
Dirty Work – Steely Dan
I will forever associate Steely Dan with my unforgettable Delta Airline years in Miami and Coconut Grove, Florida.
Love's Theme – Love Unlimited Orchestra
As a Delta Flight Attendant, I worked most holidays. I still recall driving to Miami airport on Christmas Eve, 1973, in full uniform — this #1 hit song blaring on the radio in my Karmann Ghia. I don't think I've ever been happier with myself than at that moment.
Rikki Don't Lose That Number – Steely Dan
My life was surreal in 1974. I recall belting out this song while driving in my convertible on the Rickenbacker Causeway from Miami to Key Biscayne, where I had recently moved to a luxurious "Stew Zoo." I was dating a Miami Dolphins Superbowl MVP, and my life was like something out of a movie. My Delta flight attendant days deserve their own book. It's on the list.
If You Want Me to Stay – Sly and the Family Stone
You Should Be Dancing – Bee Gees
Days after transferring my Delta base from Miami to Chicago in 1975, I attended my first disco party at The Bavarian Bicycle Club — "The BBC" for short. This unforgettable song was pulsating throughout the club. The Bee Gees were back!
Let's Hear It for The Boy – Deniece Williams
1984 was a special year for me because my son was born.
Faith – George Michael
Followed by the birth of my unicorn daughter in 1988.
And that's the end of the party!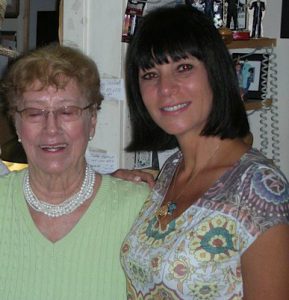 I treasure this photo with Sally White at her record store, Sally's Place in August 2011, while attending my 40th High School reunion. I'm the one with tears in my eyes because I knew it would be the last time I would see Sally.