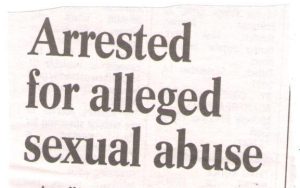 This startling headline appeared in my local newspaper last week:
Arrested for Alleged Sexual Abuse
Now, most emotional triggers hit me like a ton of angsty bricks, so before I even got to the lede, my heart was pounding, but shockingly, in a good way.
The article was about a 41-year-old volunteer male paramedic for our local Fire Department who was charged with second-degree sexual abuse and endangering the welfare of a child.
According to the story, the police investigation resulted in the paramedic's arrest for inappropriately touching a 13-year-old boy.
I felt pity for the child, but I was relieved that his abuser was exposed for the pedophile that he is. I imagined the young boy had a family who loved and believed in him and that they would do everything in their power to make him whole again.
I closed my eyes and asked God to help that poor kid to forget.
And then I wrote a note next to the article, asking my husband to save it for me.
When he warily handed me the paper, I immediately cut out the five-paragraph article and displayed it on my desk.
A short while later, my husband wanted to know why I cut it out. I just shrugged.
After a day had passed, he wanted to know why I would torture myself by placing the article front row and center on my desk.
Later that evening, my husband was still asking me why.
Why. Why. Why.
Please, don't think me insane, but the article was a salve.  Honestly, I would frame it, but I don't want to alarm or upset my family.
Why?
Because the article is validation, that's why.
Because the predator inappropriately touched a thirteen-year-old child, and he got arrested, that's why.
Because this deviant will serve time in jail, that's why.
Because Mr. Molester was publicly humiliated and exposed, that's why.
Because the innocent little boy will never have to be sexually assaulted by that sicko again, that's why.
At the end of the article, the detectives requested that if anyone thinks they might have been a victim of a similar incident to contact Crime Stoppers at 1-800-244-7477 or call 911. All calls are confidential.
Too late for me, but not too late for others, that's why.