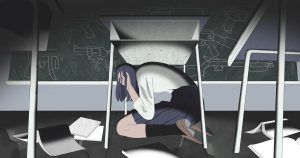 My generation was labeled the Baby Boomers (1946-1964).
Next up: Generation X (1965-1979).
Then along came the Xennials (1975-1985).
And then Generation Y (1980-1994).
Followed by the iGen/Gen Z Generation: 1995 -2012. But their generation label and many of their lives were cut short.
Now they are sadly known as the Mass Shooting Generation.
On April 20, 1999, America was reshaped by the mass shooting at Columbine High School in Colorado. Two seniors murdered 12 students, one teacher, and wounded more than 20 others.  Then they both committed suicide.
On March 5, 2001, a freshman at Santana High School in Santee, California killed two and wounded 13. He is serving a sentence of 50 to life.
March 21, 2005, a 16-year-old shot his grandfather and his grandfather's girlfriend. Then he made his way to his former school, Red Lake High School in Red Lake, Michigan and shot and killed seven students and wounded five others. Then he committed suicide.
In October 2006, a thirty-two-year-old barricaded himself in West Nickel Mines School, a one-room Amish schoolhouse in Nickel Mines, Pennsylvania. He tied up 10 young girls before he started shooting. He shot eight out of the ten girls (aged 6-13) killing five. Then he took his own life.
On April 16, 2007,  a student at Virginia Polytechnic Institute in Blacksburg, Virginia murdered 32 students and teachers. The killing spree ended when he killed himself.
On February 14, 2008, a former grad student from Northern Illinois University in DeKalb, Illinois popped out from behind a curtain in an auditorium and opened fire on an oceanography class and killed six people. Then he killed himself.
On April 2, 2012, a 43-year-old former student at Oikos University in Oakland, California fired on a classroom at the Christian school and killed seven people. He was sentenced to seven consecutive life sentences.
On Dec. 14, 2012, a 20-year-old former student at Sandy Hook Elementary School in Newtown, Connecticut killed his mother then burst into Sandy Hook where he murdered 20 students (6-7 years old) and six teachers before committing suicide.
On June 7, 2013, a 23-year-old opened fire at Santa Monica College in Santa Monica, California killing five people and injuring four. The shooting spree ended when police shot and killed him.
On May 2014, a 22-year-old who had posted a murderous warning on YouTube promising to exact vengeance on sorority women who scorned him killed six and injured 13 at University of California, Santa Barbara in Isla Vista, California. The violence ended when he shot and killed himself.
On Oct. 24, 2014, a 15-year-old student from Marysville Pilchuck High School in Marysville, Washington shot five of his classmates, killing four of them. Then he killed himself.
On October 1, 2015, a 26-year-old opened fire at Umpqua Community College in Roseburg, Oregon, killing 10 people and wounding 7. The gunman died in an exchange of gunfire with police officers.
On February 14, 2018, a 19-year-old former student at  Marjory Stoneman Douglas High School, In Parkland, Florida murdered 14 students, 3 teachers and injured more than a dozen others. He was arrested and faces the death penalty.
Colorado, California, Michigan, Pennsylvania, Virginia, Illinois, Connecticut, Washington, Oregon, Florida.
According to EveryTown, there have been 17 school shootings in 2018 alone, and 290 since 2013, shortly after Sandy Hook.
High School seniors can't remember a time when they didn't know about school shootings.
Middle School students regularly practice code red drills.
The Mass Shooting Generation practice active shooter drills and huddle through lockdowns.
This is the way of life for the Mass Shooting Generation.
This generation is almost grown up. And the're fed up.
With tears, passion, and fury, students issued a defiant and anguished message to Republican politicians:
The Mass Shooting Generation have been politically awakened, and their lives are forever altered by mass school shootings. They demand change. And they won't stop until they get it.
Welcome to the revolution.
Watching the March For Our Lives on television brought me back to a poem and song by Gil Scott-Heron recorded in 1970 titled "The Revolution Will Not Be Televised." He recited the lyrics accompanied only by congas and bongo drums. I still recall the mantra: The revolution will not be televised, will not be televised, will not be televised. The revolution will be live.
The Mass Shooting Generation is nearing voting age. They are getting ready for the midterm elections in November. They are registering to vote. They are helping others to register.  They are engaged, they are angry, and they want to be heard.
And Republican politicians ignore them at their peril and political demise.
They aren't going to be satisfied with the March 24th March For Our Lives moment.
They are determined to turn the the moment into a movement. In this case, the revolution is both televised and live.
The NRA has money. But our young Americans want to live.  Life Trumps guns.
Will the Mass Shooting Generation be the ones who take down the gun lobby?
Stay tuned for November midterms 2018.
The Revolution Will Not Be Televised by Gil Scott-Heron
You will not be able to stay home, brother
You will not be able to plug in, turn on and drop out
You will not be able to lose yourself on skag and skip
Skip out for beer during commercials
Because the revolution will not be televised
The revolution will not be televised
The revolution will not be brought to you by Xerox
In 4 parts without commercial interruption
The revolution will not show you pictures of Nixon
Blowing a bugle and leading a charge by John Mitchell
General Abrams and Spiro Agnew to eat
Hog maws confiscated from a Harlem sanctuary
The revolution will not be televised
The revolution will be brought to you by the Schaefer Award Theatre and
will not star Natalie Wood and Steve McQueen or Bullwinkle and Julia
The revolution will not give your mouth sex appeal
The revolution will not get rid of the nubs
The revolution will not make you look five pounds
Thinner, because The revolution will not be televised, Brother
There will be no pictures of you and Willie Mays
Pushing that cart down the block on the dead run
Or trying to slide that color television into a stolen ambulance
NBC will not predict the winner at 8:32or the count from 29 districts
The revolution will not be televised
There will be no pictures of pigs shooting down
Brothers in the instant replay
There will be no pictures of young being
Run out of Harlem on a rail with a brand new process
There will be no slow motion or still life of
Roy Wilkens strolling through Watts in a red, black and
Green liberation jumpsuit that he had been saving
For just the right occasion
Green Acres, The Beverly Hillbillies, and
Hooterville Junction will no longer be so damned relevant
and Women will not care if Dick finally gets down with
Jane on Search for Tomorrow because Black people
will be in the street looking for a brighter day
The revolution will not be televised
There will be no highlights on the eleven o'clock News
and no pictures of hairy armed women Liberationists and
Jackie Onassis blowing her nose
The theme song will not be written by Jim Webb, Francis Scott Key
nor sung by Glen Campbell, Tom Jones, Johnny Cash
Englebert Humperdink, or the Rare Earth
The revolution will not be televised
The revolution will not be right back after a message
About a whitetornado, white lightning, or white people
You will not have to worry about a germ on your Bedroom
a tiger in your tank, or the giant in your toilet bowl
The revolution will not go better with Coke
The revolution will not fight the germs that cause bad breath
The revolution WILL put you in the driver's seat
The revolution will not be televised
WILL not be televised, WILL NOT BE TELEVISED
The revolution will be no re-run brothers
The revolution will be live