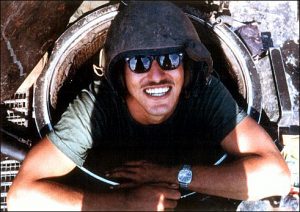 In 1968, when I was just fifteen years old, I can still recall with chills that at the end of the news every night, an unending list of names of those lost in Vietnam that day would silently scroll on the television screen.
The scrolling and scrolling and scrolling. It's still seared in my memory.
On Veteran's Day, November 11, 1970, a student group based in California called Voices in Vital America (VIVA) launched a POW/MIA bracelet campaign. The intention was to sell the bracelets and use the money to increase public awareness of the thousands of missing U.S. soldiers in Vietnam and never forget them.
Each bracelet was engraved with a soldier's name and the date of his capture. Between 1970 and 1976, VIVA sold over five million bracelets.
Back in the early 1970s—at least in my circle of friends—we felt it was our civic duty to honor the missing by wearing their bracelets.
In 1971, a friend gave me a bracelet for Christmas in honor of U.S. Air Force Staff Sergeant James A. Champion from Houston, Texas, who went missing on April 24, 1971. I vowed to wear my treasured bracelet until James or his remains came home.
According to reports, on April 23, 1971, Private First Class (PFC) James Albert Champion was a rifleman assigned to a six-man radio relay team on a Long Range Reconnaissance Patrol (LRRP) inserted into the infamous A Shau Valley. After receiving intense enemy ground fire at their primary landing zone (LZ), the team was moved and inserted near the village of A Luoi.
The LZ was two miles northwest of a river and six miles away from the South Vietnamese/Lao border. This border road was no more than a path cut through the jungle-covered mountains and used by the Communists to transport troops, weapons, and supplies, from North Vietnam into South Vietnam. U.S. forces used all assets available to them to stop this flow of men and supplies from moving south into the war zone.
After disembarking from his helicopter at 1500 hours, Champion's radio relay team leader was severely wounded by enemy fire. The alternate team leader took command of the patrol, but he was hit by enemy fire and killed. A helicopter trying to rescue the wounded and dead soldiers was shot down, and the 4-man aircrew found themselves on the ground with the LRRP team fighting for their lives. Shortly after that, a second helicopter attempted to rescue the embattled Americans but was also shot down by enemy ground fire.
On April 24, the Americans on the ground were still engaged in vicious combat with the North Vietnamese Army forces.
On April 25, at approximately 1500 hours, PFC Champion, armed with an M-16 rifle and in good shape, left the team's defensive perimeter next to one of the downed helicopters to look for water, but the Ranger never returned.
One of the helicopter pilots reported he heard shots coming from the direction PFC Champion headed but could not provide any additional information about his fate. A helicopter successfully rescued the survivors and the dead later that day.
Ground and aerial searches were conducted for Champion from April 25 through April 30 without success. On April 30, the formal search was terminated, and James Champion was listed Missing in Action. After the incident, the Army promoted PFC Champion to the rank of Staff Sergeant.
On June 16, 1973, I went with some friends to Shea Stadium, where 152 released war prisoners were honored in a pre-game ceremony before the New York Mets played the San Diego Padres. Staff Sergeant James Champion was sadly not one of them.
I wept as the former POWs marched onto the field as the band played "This Land Is Your Land." The over 25,000 fans gave them a standing ovation, their fists pumping in the air, roaring and screaming non-stop, "U.S.A., U.S.A., U.S.A.," for well over five minutes.
Many of the fans, the POWs, the Mets, and the Padres were all crying.
In 1976, VIVA closed its doors because Americans wanted to forget about Vietnam.
But I will never forget our soldiers left behind, especially Sergeant James Albert Champion.
As of February 26, 2020, there are still 1,585 Americans missing and unaccounted for in Vietnam—many of them airmen.
Since the Vietnam War ended, our government has received over 21,000 reports about POW/MIA. There is mounting evidence that hundreds of soldiers may still be alive and captive, waiting for their country to save them.
James Champion may be one of them.