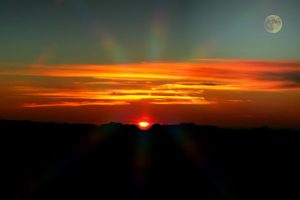 This past Saturday marked 25 weeks since I have self-quarantined with my husband.
Day in and day out, all I have is Zoom, my husband, my cooking, my blog, my dollhouse projects, and the television.
Watching the protests from the safety of my home has hit me in a way I have never felt before.
At 67 years old, I've finally figured out that the legacy of slavery continues to devastate black lives.
It took a coronavirus pandemic for me to realize that there was already a pandemic in America. A plague way worse than the coronavirus.
How naïve I've been to think that we were all in this together.
Together? No. Not so.
I watch the news, and I see the hateful Facebook posts from people that I thought I knew, and I wonder if blacks will ever achieve racial equality in this country.
My husband discovered the Americana girl band Our Native Daughters while listening to an Israeli radio station on his nightly walk through our local park.
Their song Moon Meets the Sun inspired him so much that when he got home, he excitedly searched YouTube for me to hear it.
The lyrics were haunting, and they made me so mad.
They made me want to help somehow, but I'm stuck in my house, and I'm afraid to venture out.
The longer I stay in, the harder it is to make a move.
I want so badly to fix something.
Anything.
But I can't even leave my house, so how the hell can I fix racism?
♪When the day is done, the moon meets the sun, we'll be dancing. You put the shackles on our feet. But we're dancing. You steal our very tongue. But we're dancing. You steal our children. But we're dancing. You make us hate our very skin. But we're dancing.♪
The sun and the moon align every 18 years.
My lucky number is 18.
The Hebrew word for "life" is (chai), which has a numerical value of 18.
And over and over again, the number 18 and multiples of 18 have had an eerie significance in my life.
I thought about the number 18 as it relates to what's happening to our country and how 18 might fix it.
And then I thought about all those 18-year old kids that need to vote.
They need to fix us.
I pray the kids will make the change.
When you've finished listening to Moon Meets the Sun, there is another YouTube video by Our Native Daughters titled Barbados that you must watch. The link to it is at the bottom of this blog post.
Barbados left me remorseful and covered with goosebumps. It's more of a poem than a song.
And it got stuck in my head.
So much so, that I needed to share it with someone, somewhere out there.
Barbados
I own I am shocked at the purchase of slaves
And fear those who buy them and sell them are knaves
What I hear of their hardships, their tortures, and groans
It's almost enough to draw pity from stones
I pity them greatly, but I must be mum
For how could we do without sugar and rum?
Especially sugar, so needful we see?
What? Give up our desserts, our coffee, and tea?!
Besides, if we do, the French, Dutch, and Danes
Will heartily thank us, no doubt, for our pains
If we do not buy the poor creatures, they will
And tortures and groans will be multiplied still
I own I am shocked at prisoners in the mines
And kids sewing clothes for our most famous lines
What I hear of their wages seems slavery indeed
It's enough that I fear it's all rooted in greed
I pity them…
I pity them greatly, but I must be mum
For what about nickel, cobalt, lithium?
The garments we wear, the electronics we own?
What? Give up our tablets, our laptops, and phones?!
Besides, if we do, the prices will soar
And who could afford to pay one dollar more?
Sitting here typing it seems well worth the price
And you there, listening on your favorite device
This bargain we're in, well, it's not quite illicit
So relax, my friend, we're not all complicit