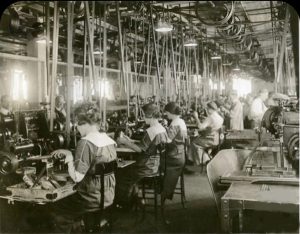 CHAPTER 11
MEM'S BOSS AT REMINGTON ARMS
February 1963
Mem has been desperately trying to get off the 3-11 pm shift at Remington Arms. Mem's boss Adam has been trying to switch her to the 7 am to 3 pm shift for over six months, but so far, he hasn't been able to pull it off.
Both Mem and Mom are saving every penny they can, working five jobs between them so they can get us a better place to live and move Mere Germaine back in.
Mem says that Adam has been awfully good to her and gives her extra shifts whenever possible. He also taught Mem the value of money and helped her to open her first bank account many years ago.
Adam appreciates how hard Mem works, and according to Mem, he agrees with her that we need to move off White Street because it's getting more dangerous by the day. Mem says that's why Adam gives her so many extra shifts.  Mom says it's because Adam has a crush on Mem.
Last month Adam called Mem and asked her to stop by his office the next day after church. Mom raised an eyebrow at that. Mem was up the whole night, tossing and turning, convinced that Adam was going to fire her. Mom was convinced Adam was going to ask her out on a date because he found out about her butcher boyfriend.
The Sunday after Adam's call to Mem and after church services, I walked home with Mom and Mere Germaine while Mem hurried over to the factory.
Mem came home crying, which was a big deal because Mem never cries. I was praying she didn't lose her job. Mem said that when she walked into Adam's office, he told her he had good news and bad news.
The good news was that Adam pulled some strings and got Mem the 7 am to 3 pm shift, which was the shift she's been wanting for years, so I wondered why she was crying.
The bad news — the horrible news — was that Adam was leaving Remington Arms. He had bad lungs, he told her – from working with all the gunpowder at the factory, and the doctor told him he didn't have long to live.
Through her tears, Mem told us that Adam's parents are both dead, and since he was never married, he's all alone, and she's worried about who is going to take care of him when things get bad. Mom told Mem that Adam shouldn't be her concern, but Mem replied that all of God's souls should be our concern.
Soon after Mem started working the day shift, Adam left Remington Arms. His house is on Barnum Avenue, right across the street from the factory, so with Mem's new work schedule, she was stopping by during her lunch break to keep him company and make him something to eat.
He's been getting weaker by the day, so in addition to going there for lunch, she's also been going back to Adam's house after her shift is over at 3 pm to clean his house and make dinner.
Last week, Adam insisted on paying Mem a very generous salary, even though she told him she would be happy to do it for free. Mem told me that she reminded Adam if it wasn't for him, she would have never gotten the factory job in the first place or the extra shifts.
The salary Adam is giving her is so generous that Mem will be able to quit her waitress job at Woolworths in a few weeks. The only thing I like about Mem working at Woolworths is that she gets a discount and has been buying me the Nancy Drew mysteries — one book a week. I have 1-36, so I hope before Mem quits Woolworths, I get the 37-40 that Carolyn Keene has written so far.
The best part about the books is that I have been reading them to Mere Germaine and Mem. Mere Germaine is a lost cause and barely understands what I'm reading, but I've been pointing out the easy words to Mem, and she's been trying to read them along with me. Since Mem can't read or write English, the books are helping Mem to learn how to read, although I don't think Mem will ever be able to write more than her name and address and maybe a few words and phrases.
Until last week, I was still hanging out at Steve's Market with Rib and Yolanda every day after school, and it was obvious to me that Steve was not happy about Mem working for Adam.
"Adam, Adam, Adam. Your grandmother is always talking about Adam." I wanted to remind Steve that Adam was half dead, but I decided to keep my mouth shut.
Adam is getting sicker and weaker, so now every day after school, I walk home, pick up Rib, and then walk to Adam's house, where I meet Mem after her shift is over. Adam helps me with my homework while Mem cooks and cleans, and then helps him with his bath.
Steve is very upset that I'm not coming by his store after school anymore and told Mem the same. Mem got all nerved up by Steve's stupid behavior, and she warned him not to boss her around — or else.  I feel bad about Steve, but I also like spending time with Adam, so I don't feel that bad. But Mem telling Steve "or else" makes me nervous because Steve means a lot to me; plus, we've never eaten better.
Even though Mem warned Steve, he's still upset about Mem working for Adam, so yesterday, when Steve surprised Mem with a stereo console radio and record player, she was suspicious. I think Mem loved it, but she warned Steve if his gift had anything to do with Adam, she didn't want any part of it.
♪ It was an itsy-bitsy teeny weenie yellow polka dot bikini ♪ was blaring on the radio, and Mem kept yelling at Mom to lower the sound. But Mom ignored her and grabbed Mere Germaine and me off the couch to dance with her, so Mem let us have our fun until supper time.
Jack Kennedy is President, and while we were eating, Mem told Steve that Kennedy is a sign from God, "him being an Irish Catholic and all."  But then Mere Germaine reminded Mem that Pere Germaine's accident was all because of Kennedy's bootlegging father. I wanted to ask what a bootleg was and also get the details of my great-grandfather's accident, but the sadness on Mere's face kept me quiet.
After supper, Steve showed Mem an ad for a GE Daylight Blue Television set. He was telling Mem how he wanted to buy her one for Christmas. Mem scolded Steve, saying, "You can't afford no television, so don't put crazy thoughts in the girls' heads."
Plus, Christmas is ten months away, and Mem says that the expensive gift Steve is promising us is because of Adam. Mem doesn't think Adam will make it to Christmas, and once Adam is dead, she says Steve won't have to buy us a television because that's the way men are. Mem sure has a lot of bad things to say about men, but never Adam.
I'm going to pray to God tonight that Adam lasts way past Christmas because I don't want him to die. I'm also going to pray that Steve isn't like other men because I really want a television set.