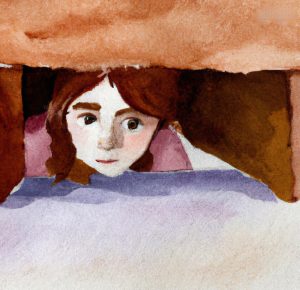 CHAPTER 18
THE SECRET IS OUT
January 1965
I should have never taken the chance that Roberto might see me at Mem's window, but I was sick and tired of worrying about some guy I didn't know. Plus, I was boiling mad at Mom for refusing to tell Roberto about me, and deep down, I wanted to punish her.
So late last night, when I saw the bright lights outside, I knew that Roberto was dropping off Mom, and I decided to take my chances at Mem's window. Mem was busy on the sewing machine at the other end of the apartment, so I snuck a quick peek.
As I peeped out from the bottom right corner of the window, a cockroach ran out from under Mem's bed, making me jump around and scream like a banshee.
That was the stupidest thing I could have done because Roberto looked up and saw me! I quickly dropped to the floor despite the cockroach. A few minutes later, I heard the kitchen door open and loudly slammed shut.
"Where is she? I'm gonna kill her," Mom yelled out from the kitchen. I crawled under the bed, praying there weren't more cockroaches, but from the sounds coming out of Mom, I was safer with the bugs.
Mom was screaming and swearing, and Mem warned her to stay away from me. Mom came into the bedroom with a broom and kept stabbing me under the bed with the bristles. It was painful, and I was crying. Mem tried to pull Mom away and threatened to call Mere Germaine on her if she didn't calm herself down.
Then Mom dropped to the bedroom floor, sobbing. "Roberto saw Tony at the window. She did this on purpose. Roberto called me a distrustful liar and broke up with me. That Tony of yours is pure evil, and I wish she was never born."
Mem responded by reminding Mom that I was her kid and not Mem's and that I could hear every word she was saying. Mem warned Mom that she would regret her words later. "The only thing I regret is having that brat," she yelled as she picked herself up off the floor and slammed the back door as she left.
Mem ordered me out from under her bed. When I crawled out, I was covered head to toe with blood pricks from the broom bristles. My bleeding body stung, but not as much as Mom's ugly words.
Mem stayed quiet. She put me in the bath to clean off the blood and removed some broom bristles stuck in my hair and scalp.
Then Mem called Mere Germaine to ask what she should do because it wasn't safe for Mom to be outside in the dark. Mere Germaine said she was walking over to our apartment, which was a very long walk, so Mem begged her not to come. But Mere Germaine said she was on her way.
I hated myself for what I had done, but there was nothing I could do to change the situation. If it weren't for Mom refusing to tell Roberto about me, none of this would have happened.
When Mere Germaine finally showed up, Mem ran outside to look for Mom. Before Mem left, Mere Germaine told her to take a can of Raid with her so if anyone tried to hurt her or Mom, she could spray it in their eyes.
I told Mere Germaine what happened, and she scolded me but held me tight while gently patting my still-bleeding arms and legs with her dainty needle-pointed handkerchief as I cried uncontrollably in her lap.
She put me to bed and told me not to move a muscle. "When your mother gets home, you pretend to be asleep, tu comprends?" Oh, I understood, all right.
Soon after, I heard Mem and Mom come into the apartment. Mom was still sobbing hysterically and telling Mem and Mere Germaine that she couldn't take me anymore.
"If it wasn't for her," she cried to Mem, "my life would be so much easier. All of our lives would be easier."
Mere Germaine was quiet, but Mem said, "How can you say such a thing? She's a child. Your child."
"Tony just had to put her ugly, scrawny face on the window. How many times have I told her not to do it? She ruined everything. We will never get out of here now, thanks to her. Roberto demanded to know who the kid was. This is not how I wanted him to find out about her. He'll never speak to me again; I just know it."
Mem and Mere Germaine did their best to calm her crying fit, but she wailed away for hours. That's what Mom gets for being a big fat liar.
Mom's words were way more painful than the stabbing she gave me with the broom, but getting Roberto out of our lives was worth the pain of all of it, and given a chance, I would do it again and again and again.