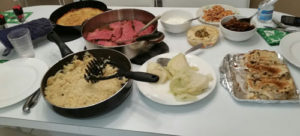 I like to mark St. Patrick's Day with a homemade meal of corned beef and cabbage in the confines of my humble abode. (See recipes below.)
Now I'm not one for the whole Kiss me I'm Irish tradition, which is why I prefer to invite some friends over, cook a nostalgic Irish meal, and eat in, versus having to duck and dodge the random, often drunkish guys looking for a snog.
"Kiss me, I'm Irish," is a reference to kissing the Blarney Stone. And legend has it, that if you can't kiss the stone, the next best chance of catching some good luck is to kiss an Irish person.
In the past, when I have taken a chance at the bars, I have sternly warned off creepy kisses by adamantly proclaiming that I have zero Irish roots.  Let those whankers find some other poor, defenseless, and possibly Irish victim to pucker up with.
But I have to admit that every time I flat out Irish deny, there is that little inner leprechaun, wondering, if not hoping, that perhaps there is a touch of the Irish in me.
The short answer is that anything is possible.
The longer answer is buried in the memories of my grandmother, and the delicious corned beef and cabbage dinners she made nearly every St. Patrick's Day. Was she part Irish, or was it just a Catholic tradition?
Okay, I admit, a killer corned beef and cabbage recipe does not an Irishwoman make.
But who really knows?
That's where Finding Your Roots, a show hosted by Henry Louis Gates Jr. comes in.
In each episode, DNA diagnosticians trace bloodlines and analyze the genetic code of celebrities. The program utilizes AncestryDNA as one of its research tools, and I am always blown away by the often shocking discovery of long-lost relatives hidden for generations within the branches of their family trees.  I am an avid fan of the show mostly because I have always wanted to trace my own roots.
So what a pleasant surprise when in my inbox yesterday there was an offer from Ancestry.com for a 10% savings for their DNA analysis in celebration of St. Patrick's Day.
The sell copy stated that with a simple DNA test, I could discover my ethnic mix and see it there's a bit of Irish in the family tree after all.
Call it luck o' the Irish: For $89 I can finally find out about my ethnicity and where my ancestors hail from.
So as an early birthday present to myself, I have decided that I am going to have my DNA analyzed and discover my roots once and for all.
But as part of my yearly tradition, I've first got to make some corned beef and cabbage in honor and in memory of my possibly part Irish grandmother on St. Paddy's Day.
Mammy's Corned Beef and Cabbage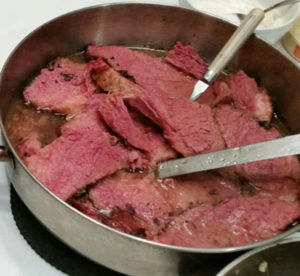 Like my grandmother, I slow roast the corned beef in the oven. The potatoes, cabbage, and carrots (I use parsnips) can be boiled together or separately. I like to switch it up sometimes and bake hash browns.  I mash the carrots and/or parsnips, and I fry up some onions just like my grandmother did. A real St. Patrick's Day feast with all the fixings. [I have an anaphylactic allergy to carrots, so that's why I use parsnips.]
3 large onions (I slice em' and fry em' in olive oil)
4-6 medium potatoes, peeled and boiled whole (or see my recipe for Baked Hash Browns)
1 pound large carrots or parsnips peeled, boiled, and mashed with salt, pepper, and butter.
2 Tablespoons black pepper
1 (4-6 pound) corned beef brisket whole
1 head of cabbage (I prefer Savoy cabbage)
2 Tablespoons Horseradish sauce
2 Tablespoons Cool Whip
Preheat oven to 325 degrees. Unwrap the corned beef brisket and place fat-side up in a roasting pan just slightly larger than the brisket. If the corned beef comes with a spice packet, add two tablespoons of black pepper to it, and rub the mixture all over the top of the corned beef. If you don't have a packet of spices, just rub 2-3 tablespoons of pepper onto the top. Cover the dish with heavy aluminum foil.  Place the meat in a 325-degree oven for 2 ½ hours. Then remove the foil and bake for at least another 30 to 60 minutes.
Check the brisket by inserting a fork in it after 3 hours. If the fork goes in easy, your corned beef is ready. If the fork doesn't go in easy, bake for at least another 30 minutes. You may need up to an additional hour or even more for the corned beef to be fully cooked. Once it's cooked, cover with foil and rest until you're ready to serve.
Fry up the onions any old way, and boil the cabbage and the potatoes (unless you are baking Hash Browns) along with the carrots/parsnips.
When the carrots and/or parsnips are done, mash them with some butter, and top with a little salt and pepper.  Cut the cabbage while still in the pot, and then drain and put on a platter.
Uncover the brisket and transfer to a cutting board. Cut thick slices against the grain and put back into the roasting pan.  You can serve the onions and boiled potatoes separately or place them on the outside of the platter with the meat and cabbage in the middle.
I make a quick but delicious side sauce by taking ½ part prepared horseradish sauce and 1/2 part Cool Whip and combining them.
Serve everything with Dijon mustard, creamy horseradish sauce, and Irish Soda Bread.
And don't forget the Guinness.
Baked Hash Browns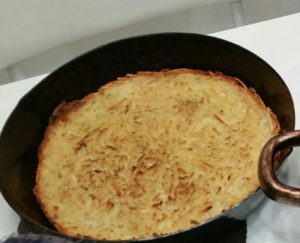 4 cups peeled and grated potatoes
2 tablespoons unsalted butter
1 tablespoon olive oil
1/2 teaspoon kosher salt
1/2 teaspoon black pepper
1/2 teaspoon garlic powder
½ cup grated Parmesan (optional)
11×17 inch sheet pan
Preheat oven to 400 degrees. Once the potatoes are peeled and grated, rinse and dry them well. Take the butter, olive oil, garlic powder, salt and pepper and melt it all together. (I do it in the microwave for 30 seconds.) Pour over your potatoes. If you want to add a little extra flavor, you can throw in some Parmesan. Line a sheet pan with parchment paper (don't skip this step) and then put the potato mixture in. Put them in the oven and leave them alone. Don't turn them or move them at all. Cook for 15-20 minutes on the lowest rack of your oven. When the edges are browning nicely, they are ready for the next step. Keep the temperature the same but move the pan up to the highest rack of your oven, and cook for another 10-15 minutes. This will crisp up the bottom. Keep a careful eye on them and take them out when they are done to your crispiness liking.
Irish or not, my eyes are smiling, I'm clothed in green, with a Guinness in hand, and wishing you Sláinte!
And don't worry I'll keep you posted about the Irish thing!