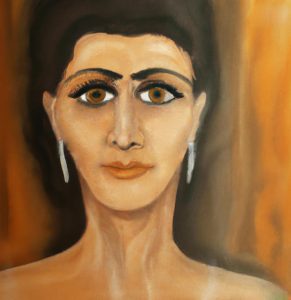 [My self-portrait with the help of AI]
From birth to age 12, my mother, grandmother, and great-grandmother were my heroes. In my teens through 21, my heroes were my friends. Then came the boss heroes who guided me through the corporate ladder climb. Once I reached my 40s, my husband morphed into my hero. And in my 50s, I looked for the hero in my kids. Then I went heroless for a while.
And now, at 70, I see that the hero I spent a lifetime searching for was inside me the whole time.
Here are my notes to self on the arrival of my 70th birthday:
At 70…
I am not too old.
I will plant another butterfly bush, so more will come.
I can spend the time I have left in any way I choose.
The clock is of no import to me now.
I'm still a work in progress.
Endings might just be more beautiful than beginnings.
I can finally focus on what I want to do and not what I need to do.
The most tragic and regretful goodbye is the one that was never said.
Money is not the answer to everything, but it helps.
The family I have isn't all the family I need, but I have hope.
I'm not at peace. But I'm working on it.
I now know that to exist is to survive.
Friends come and go, but some surprise you and stay forever.
For the first time in my life, I can do whatever I want, whenever I want.
I am more than the sum of my Bridgeport parts, but I will never forget where I came from.
The adage "You get what you give" is not always true.
I don't want anything I don't already have.
Sometimes goodbye, not sorry, is the hardest word.
My hard work actually did pay off.
I will say his name. But not yet.
It is never too late.