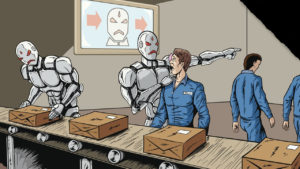 Donald Trump won the Presidency in large part, by promising to bring back jobs by mostly clamping down on trade.
But the truth is that trade has very little to do with the loss of jobs. The real job loss culprit isn't trade—it's automation and robot employees.  And I would be very surprised if Trump clamps down on either.
The new labor sheriff coming to town—Andrew F. Puzder, Trump's pick for Labor Secretary, won't be clamping down on automation or robot employees either.
The current chief executive of CKE Restaurants Puzder had this to say to Business Insider this past March about robot employees: "They're always polite, they always upsell, they never take a vacation, they never show up late, there's never a slip-and-fall, or an age, sex or race discrimination case."
Yes, that's what he said, folks. So it doesn't sound like Puzder will be looking to replace robot employees with warm bodies anytime soon.
Trump won a seemingly political victory when he convinced Carrier to keep 800 jobs in Indiana.
And yes, Trump may have convinced Carrier to save jobs. For now.
But here's what you might not know. Carrier plans on taking advantage of all those Trump tax cuts and incentives, totaling some $16 million, and investing it in automation.
And sure, automation could create some new jobs, but those jobs will require retraining. People with obsolete skills will have to reposition themselves and be retrained for different careers. Job training is essential in addressing skill gaps to prepare the current and future workforce with the tools they need to compete in an increasingly automated America. But Trump's got no plan on the table for job training at all.
Additionally, the U.S. doesn't have any kind of national productivity policy or commission in place to identify opportunities and policies for improving productivity.
According to a recent McKinsey Report, existing technology could automate 45 percent of activities people are now paid to do, and the World Economic Forum has estimated that five millions jobs will be lost by 2020.
Boston Consulting Group recently reported that it costs barely $8 an hour to use a robot for spot welding in the auto industry, compared to $25 for a worker—and the gap is only going to widen.
And in 2013 and Oxford study reported that work automation will put 47% of existing jobs in the U.S. at "high risk," meaning human workers in those jobs will be replaced by robots within 20 years.
So it's time to stop blaming immigrants, trade, offshoring, China, and Mexico on lost jobs.
Blame it on scientific genius, high-tech innovation, robotic process automation, advanced manufacturing, and hugely successful machinery efficiencies.
What we really need is a President who has the guts to tell the truth about the future of work, not one who thinks he can sell us a Trumped-up myth and pretend that he and he alone will bring back jobs, "real quick," and make America great again.
Because history has proven, our technological advancements are what will continue to make America great. There's no possibility of going back in time, and Trump knows it.
American Industry is at its highest level in history. It's not the industry that's in decline. The decline is in factory employment, due primarily to automation and increased efficiency.
And for the record, the U.S. unemployment rate in December was among the lowest percentages since 1981, as follows:
U.S. UNEMPLOYMENT RATES:
December 2016: 4.7%
January 2009: 7.8%
January 2001: 4.2%
January 1993: 7.3%
January 1989: 5.4%
January 1981: 7.5%
The truth is America has never been wealthier. The real problem is that the middle class, "the forgotten people," are not the beneficiary of that wealth.
Why? Because, while the middle class gives up ridiculous amounts of their salaries to the government, the wealthy minority, like Trump and his ilk make sure they use any and all means to avoid paying taxes whatsoever.
And Trump has no plans to do anything about that carnage.