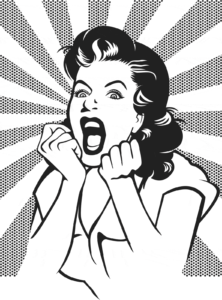 Every time I log onto Facebook I cringe.
I am so sick of the political discourse, and yes, I know I have participated in it.
I'm guilty as charged.
But I need to move on.
And I think I have come up with a brilliant solution that will help me to deal with all the noisy political nonsense.
When I feel like talking politics I will shove the words back in.
And instead, I will share a photo of one of my cooking efforts.
And if I'm really feeling politically disgusted, I'll share the recipe!
I am going to try
really
really
really
hard to stop discussing politics.
And the first place I am going to start is on Facebook.
As of today, I have put a self-imposed all-things-political blog ban on The Teri Tome and will make my best efforts to muzzle my political opinions for the next thirty days.
If anyone caught my blog post Drinking Alcohol. How Much Is Too Much?  not blogging about politics and you-know-who, might be harder than cutting out the vino.
And my new passive aggressive approach starting right now?
Every time I read something on Facebook that irks me, makes me roll my eyes, and yes—sometimes enrages me, I'm going to post a food pic and a recipe or two.
So just to give you a heads up—if you see a food pic or a recipe from me in your Facebook comments section, you'll know why.
If people  are still whipping up talk of building that wall.  [Nothing comes close to the walnut chicken I recently whipped up.]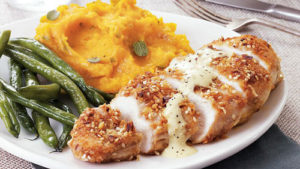 HOW TO BUILD THAT WALNUT CHICKEN
6 boneless skinless chicken breasts
¼ cup butter or margarine, melted
½ teaspoon garlic powder
½ cup bread crumbs
¼ cup all-purpose flour
½ cup finely chopped walnuts
¼ cup sesame seeds
1 teaspoon salt
½ teaspoon freshly ground pepper
2 tablespoons butter or margarine
2 tablespoons olive oil
Mustard Sauce
1 cup whipping cream
2 tablespoons Dijon mustard
2 tablespoons dry sherry
¼ teaspoon salt
1/8 teaspoon freshly ground pepper
In between pieces of plastic wrap or waxed paper, place each chicken breast smooth side down and gently pound with flat side of meat mallet or rolling pin until about 1/2 inch thick. In small bowl, mix melted butter and garlic powder. In shallow dish, mix bread crumbs, flour, walnuts, sesame seeds, 1 teaspoon salt and 1/2 teaspoon pepper. Brush both sides of chicken with garlic butter; coat with bread crumb mixture.
In a 12-inch skillet, heat 1 tablespoon each of the butter and oil over medium heat until butter is melted. Add 3 chicken breasts; cook 8 to 12 minutes, turning once, until no longer pink in center. Remove from skillet to serving platter; cover to keep warm. Repeat with remaining 1 tablespoon each butter and oil and remaining 3 chicken breasts.
Meanwhile, in 1-quart saucepan, stir sauce ingredients with whisk until blended. Heat to simmering; cook 10 minutes or until mixture thickens slightly and coats the back of a spoon. Serve chicken with sauce.
If people are still debating crowd size. [No biggie. Take a look at the size of the steak I grilled on the barbie last night. The bigger the better, right?]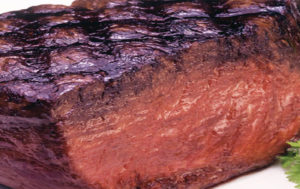 You want something crowd size?  Try a big ole slab of rib-eye so you can get that crust on the outside but still super juicy in the middle. And don't do a thing to it before you put it on the grill. Maybe a pinch of salt, but that's about it.
Rare: Sear it on high for three minutes, then turn it over for two minutes. Medium:  Four minutes on each side. Well done: Five minutes on each side.
My Chili Con Carnage
2 tablespoons olive oil
2-4 garlic cloves, minced
2 onions, chopped
2 lbs ground beef
1 tablespoon chili powder
2 teaspoons salt
1 tablespoon cumin
¼ teaspoon hot pepper flakes
2 (15 ounce) cans red kidney beans, undrained
2 (16 ounce) cans chopped tomatoes, undrained
grated cheddar cheese
Sour cream
Saute onions in olive oil. Add minced garlic and saute for another 30 seconds. In dutch oven, brown ground beef. Add onions and garlic. Add spices and tomatoes with juice. DO NOT DRAIN. Heat to boiling and simmer for one hour. Add beans. DO NOT DRAIN. Simmer for approximately 20 minutes. Top with cheese and serve with hot biscuits or corn bread and a dollop of sour cream. (I like to make a face on the top of my chili. See my photo as a guide)
Trump is killing Obamacare. [My challah roll bread is to die for.]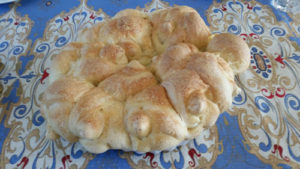 Make America great again! [Take a gander at my great American dinner!]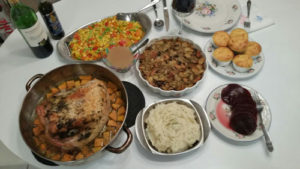 Cutting sanctuary city funding? [How about that cut of prime rib my butcher recently prepared for me?]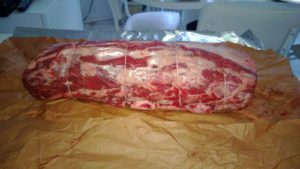 Five million Americans voted fraudulently. [Anyone interested in my five layer rainbow cake recipe?]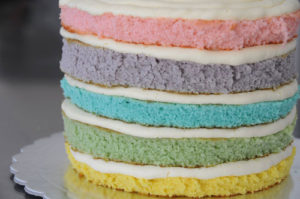 I suggest you all try my approach!  PLEASE.