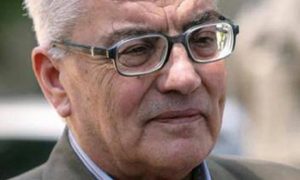 The killing of Cecil the lion—in which a Minnesota dentist, Walter J. Palmer, lured him out of a Zimbabwe sanctuary, and then beheaded him—has incensed people all over the world.
Well, now it's time for people all over the world to be outraged over the slaughtering and beheading of the eighty-three-year-old caretaker of Palmyra's antiquities, and home to some of Syria's greatest archaeological treasures.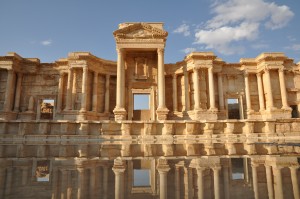 After detaining the Syrian scholar for weeks, the jihadists dragged him to a public square on Tuesday and cut off his head in front of a crowd. His blood-soaked body was then suspended with red twine by his wrists and hung from a traffic light. The jihadists placed Mr. Asaad's head on the ground between his feet, his glasses still resting on his face.
His body was then taken to Palmyra's archaeological site and strapped from one of the ancient Roman columns. A white placard with red writing was affixed to Mr. Assad's waist listing his alleged crimes, calling him an "apostate" and "the director of idolatry." His corpse is still fastened to the Roman column, rotting in the sun.
Known as "Mr. Palmyra" by many who knew him, he had been interrogated unsuccessfully by militants for over a month regarding the location of the city's hidden treasures. Mr. Asaad refused to give up the information, and died a grisly death, protecting the same history he had dedicated his life to exploring for over fifty years.
Syrian state antiquities chief Maamoun Abdulkarim had this to say about the bespectacled caretaker: "Just imagine that such a scholar who gave such memorable services to the place and to history would be beheaded… and his corpse still hanging from one of the ancient columns in the centre of a square in Palmyra. The continued presence of these criminals in this city is a curse and bad omen on Palmyra and every column and every archaeological piece in it."
Before ISIS entered Palmyra, one of the Mideast's most spectacular archaeological sites, museum workers hurriedly moved many of its most precious artifacts to safer parts of Syria. Some of the larger pieces left behind were destroyed by ISIS. In June, they blew up two ancient shrines in Palmyra that were not part of its Roman-era structures but which the militants regarded as pagan and sacrilegious.
The militants have not yet significantly damaged Palmyra's ruins. It is believed that ISIS is using the 2,000-year-old Roman-era city at the town's edge, for protection, assuming that the United States-led military coalition will not bomb a Unesco heritage site.
The world wept for Cecil the lion. Who will weep for Asaad the man?