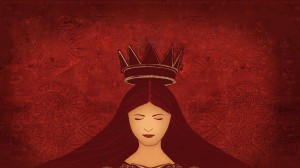 Rummaging through some boxes buried in the corner of a closet yesterday, I found a dossier of my earlier writings. It was a treasure trove of poems, plays, and short stories I had long ago forgotten about. It seems that everywhere I organize these days, files and files of writings of yore keep popping up.
I wrote the short story My Chava back in 1996 after a Hamas suicide bomber blew himself up outside Dizengoff Center in downtown Tel Aviv, killing 13 Israelis and wounding 130 more. In watching an interview with a mother who lost her young daughter, I was haunted by her words, her loss, and her unrecoverable heartbreak.
My Chavah's favorite holiday was Purim, and she was obsessed with Esther. As I helped to dress her for the Purim celebration, she excitedly told me the story of how Esther became Queen of Persia.
For several years, she had insisted on dressing up as Queen Esther. This year would be no different—except that we were celebrating Purim in Tel Aviv, where a grand celebration and best costume contest was being held. Chavah was determined to look her Esther best and win.
And she certainly looked beautiful that day. Dressed in royal blue satin, she looked every bit the Jewish heroine she portrayed. Her crown of gold glitter sat regally and securely on her long, cascading black hair, despite her vigorously waving the matching scepter in the surrounding air.
While I braided her thick, silky hair, Chavah chattered on in triumphant animation. "Twenty-five years ago in ancient Persia, the King was not happy with his disobedient wife Vashti, so he held a beauty pageant in search of his true love. Esther was chosen, became Queen, and then saved all the Jews of Persia from death. And they called the festival to celebrate the courage of Esther and the safety of the Jewish people Purim!"
Her lovely face was full of excitement as we put the final touches on her hair and makeup. Gazing into her dark eyes, I was filled with an overwhelming feeling of love and warmth.
"We'll call her Chavah," I told my husband Ari the day she was born. Meaning "breath of life," Chavah was the wife of Adam—the first woman on earth. The mother of all living. And I suppose, like any other new mother, I fervently prayed to God for a blessed life for my newborn child.
It was obvious from the beginning that Chavah was uniquely full of vitality and soul, an irrefutable gift from God. She was nurturing, kind, sensitive, motherly, otherworldly, and wise beyond her years. And it wasn't just my opinion. Our entire family reveled in the blessing that was Chavah.
As she twirled around in her full-skirted gown, my mind wandered to the day when Itzhak, our handyman, was working in our house, repairing a bookshelf. It toppled over, and the shelf and books came crashing down on him. "Chavah came running into the room to help me up," Itzhak reminisced. "That's when she noticed my arm."
Itzhak had spent many years in a Jewish ghetto and three years in a concentration camp as a young boy. His identifying numbers had been burned into his arm—a lifelong reminder that he was a victim, a survivor, and a Jew. "She touched my forearm with such tenderness, tracing the numbers with her little fingers. When I looked up at her, tears welled in her eyes as she softly said: "Blessed is the match." "I looked at her shocked, for her words were the first few of a poem that I could never forget."
Itzhak explained to me that the poem was written during the Nazi occupation of Europe by the Jewish freedom fighter Hanna Senesch. Hanna was a 23-year-old woman tortured and then murdered by the Nazis for rescuing Hungarian Jews. According to Itzhak, Hanna's poetry was revered and loved throughout Israel, a reminder of the struggle to liberate the Jewish people and build a Jewish state. I had no idea that Chavah knew of Hana Senesch, let alone her poetry.
"She recited it word for word," Itzhak told me incredulously and repeated it to me as he had heard it from her.
Blessed is the match consumed in the kindling flame.
Blessed is the flame that burns in the heart's secret places.
Blessed is the heart with strength to stop its beating for honor's sake.
Blessed is the match consumed in the kindling flame.
Ari's love for Israel and his desire to emigrate increased with Chavah's birth. We spent every summer there, each trip richer in experience than the one before. A magnificent country of lush green, built on dunes of desert and sand. The dream of a homeland, concentrated in a space the size of New Jersey, its national anthem sadly titled "Hatikvah," The Hope.
While I cherished our summers in Israel, I felt ambivalent about moving there. My friends and family were all in New York, and making new acquaintances was never my forte. I also worried about Chavah—and what would be best for her. In usual Chavah fashion, she wanted what I wanted, even though her choice would have been to move to Israel.
Israel was in her heart and in her blood. She appreciated everything about it. The stone mosaic promenade stretching along the Mediterranean Sea in Tel Aviv, the Judean Desert, and the Tower of David in the Old City of Jerusalem were but a few of her revered places.
I will never forget the summer we climbed Masada, the mountaintop fortress made of desert rock more than 1,600 feet high where Jews became martyrs. The three of us climbed it with intense determination. I recalled thinking back then that, as a child of only nine years, Chavah had incredible endurance and stamina. In the brutal heat of August, we watched the sun seemingly rise directly out of the Dead Sea. The fiery orange ball lit the dark sky over an eerie sea of nothing. The Dead Sea was the brightest green I had ever seen—so majestically beautiful yet so devoid of life.
I found Chavah high among the clouds, in the ancient ruins of the Masada Temple, on her knees, eyes closed, her face tilted up toward the sun's scorching rays. A hazy light enveloped her, creating an ethereal halo all around her. She prayed so diligently, so wholeheartedly. Never one for prayer, I knew at that moment that she was exceptional. The thought crossed my mind that Chavah and God had formed an everlasting and exceptional bond that might possibly be stronger than any bond we as her family would ever have with her.
In the end, Ari's desire to emigrate was stronger than my fear of leaving friends and family. So we left Flatbush for Israel, making a permanent home in Tel Aviv. Our apartment overlooked the Mediterranean Sea that my Chavah loved so dearly, and we quickly assimilated into life in the ancient and glorious land.
It was a perfect day for the Purim festival. The sun was shining brightly, the weather warm and pleasant. The square was brimming with young children dressed in brightly colored costumes. The crowd was singing and dancing in celebration of the festival. The stores were bustling with people, and the streets were filled with joy and laughter.
"Ima, Ima, look here," Chavah gleefully shouted to me from across the square. I gazed at her lovingly and smiled as I waved, full of immense pride and pleasure.
And then my eyes moved a mere foot away from her to a young man in his early twenties. My eyes locked on his. In that split second, I knew why he was there. As if looking down at the scene from above and in excruciatingly slow motion, I howled Chavah's name. My voice sounded dull and guttural, like a phonograph record being played at the wrong speed.
As I began to sprint toward Chavah, he pressed something in his hand, and I knew life would never be the same for us again. "NOOOOOO," I roared helplessly, the same sluggish, growling tone spewing from my mouth.
Then he imploded, bits and pieces of flesh and metal hurtling everywhere. Something solid and sharp blew into my chest, and blood spurted from me.  I felt nothing—until I saw my beloved Chavah, one leg missing, her crown and matching scepter next to where her head should have been. Ravaged by pain—piercing, excruciating, unbearable pain, I heard a woman screaming. The wailing was horrific and heartbreaking. In my disordered state, the thought kept crashing through my tortured mind that it was impossible someone could feel more pain than me.
As I cradled the shattered, dismembered body of my beloved Chavah, it was then that I realized the screaming was mine.
NOTE: On March 4, 1996, on the eve of Purim, Hamas murdered 13 Israelis, children, and adults and wounded 130 in a terrorist attack in Tel Aviv. The attack was the fourth suicide bombing in Israel in nine days, bringing the death toll during that span to over 60. https://www.youtube.com/watch?v=KwkNTvxs9Lw