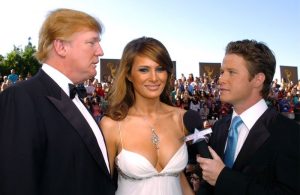 Extra Extra! Billy Bush is making a television comeback two-and-a-half years after a leaked Access Hollywood tape destroyed his career.
The uncovered tape from 2005 featured Donald Trump boasting to Bush about how he was the best at groping and kissing women without their consent.
As a result of the discovery of the lewd tape, Bush lost his job and became a pariah.
Trump won the U.S. election and became our President.
Unlike Trump, Mr. Bush has repeatedly apologized.
He spoke to Good Morning America, back in 2017 about that infamous bus ride: "I look back, and I wish I had stopped it. But I didn't have the strength of character at the time."
To be clear, there were several other people on that bus who were in senior management positions.
Did anyone hear them on the tape asking Trump to shut down his talk of sexual assault?
I'm sure not.
On September 9, Bush will debut as the host of Extra, Extra, on Fox.
Bush recently told People magazine that: "A good wallop on the side of the head makes you, changes you, and I'm a better version of the man I was."
On November 20, 2017, the poor guy landed in a hospital after being hit in the head with a golf ball.
It was unclear if he was referring to his golf ball incident or a general awakening.
Too bad Trump never had his AHA moment (sans the golf ball, of course.)
I say good for Billy, and in honor of his getting a second chance, click here for the post I wrote in his defense, back in 2017.