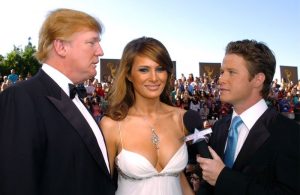 On Monday, November 20, 2017, "Access Hollywood" host Natalie Morales had this to say about Trump's recent delusional attempt to deny the authenticity of the now infamous tape: "Let us make this perfectly clear. The tape is very real. Remember his excuse at the time was 'locker-room talk.' He said every one of those words."
The next day, Republican Senator of Arizona Jeff Flake said it best when asked about Trump's attempt to reinvent history: "You didn't win the popular vote, there weren't more people at your inauguration than ever, that was your voice on that tape."
When the "Access Hollywood" tape, that had Donald Trump boasting about grabbing women's genitals surfaced, I sadly assumed he would get away with saying it—as well as doing it.
Most powerful men do.
And I was right.
Trump quickly came out and blamed it on locker room talk.
He blamed it on a locker, and sadly, a ton of people fell for it.
Even his wife Melania backed him up.
She told Anderson Cooper at the time that her husband's lewd comments about sexually assaulting women were just "boy talk."
As I sat there listening to her tripe with my mouth hanging open, she continued saying how he was "egged on" to say "dirty and bad stuff" by Billy Bush, the "Access Hollywood" host at the time.
She blamed it on Billy, and sadly, a ton of people fell for it.
Melania actually referred to her husband and Billy Bush as "two teenage boys."
Donald Trump was 59 at the time, not exactly a whippersnapper.
Then, more than a dozen women came out and accused Trump of all sorts of unseemly acts.
But I still knew it wasn't going to make a damn bit of difference.
And it didn't.
While Trump became President, Billy Bush became a pariah.
Billy didn't assault women, he didn't grab at their genitals, and he didn't force himself on them.
He chuckled, acted foolishly by playing along, and sucked up to Trump.
And for that Billy's world imploded.
He lost his job a week after the tape came out and his wife of almost two decades left him this past September.
On Monday, the poor guy landed in a hospital after being hit in the head with a golf ball.
This has been a tough few months for Billy.
I say the guy should get a break. I say after Billy recuperates from his golf ball injury he should be interviewed.
Ask Billy Bush.
If there's anyone out there who wishes the tape was fake, it's the guy who lost his job and probably his wife because of it.
And who knows, maybe if he takes to the air waves, all the people who fell for Donald and Melania's lame excuses will finally forgive Billy…
…for the simple sin of not having the strength of character to change the subject.