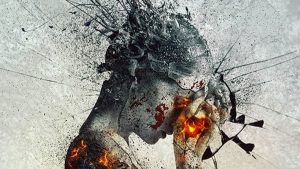 They can randomly slam into my psyche at any time or any place.  A smell, a sound, a sight.
And those unpredictable triggers can elicit a pounding heart, a sigh, a sob, a painful pit in my stomach, or a full-fledged meltdown.
Driving to Pennsylvania for business three weeks ago, I was stopped at a red light and happened to look at the car behind me through my rear-view mirror.
A drop-dead gorgeous guy was staring at the so-so looking girl sitting in the passenger seat. The so-so girl was staring straight ahead stiff as a statue.
To anyone else, this would have been a nothing burger. No there there.
But I could sense trouble brewing. Call it intuition from experience.
So, I kept looking.
As the light turned green, he roughly grabbed her face with his right hand, yanking it in his direction. She swatted his hand. He pulled hard on her hair. She never stopped staring straight ahead.
I didn't budge. I couldn't drive. He put his hand to the horn, and I jerked forward and pulled over to the side of the road as soon as I could. As he sped by me, my eyes locked with hers.
I wanted to chase them down, jump out of my car and pull her out of his. Save her, because a long time ago I didn't have the courage to save myself.
Trigger.
I sat shaking and shouting.  LEAVE HIM!!!!! LEAVE HIM!!!!!
Once I got control of myself, I continued driving. But it ruined my whole day.
That's how it happens.
Something awful crashes in on me unexpectedly. The melancholy, the anxiety, the overwhelming sadness. The anger. The frustration.
Yesterday a young boy roller-bladed past me as I was pulling my car into the garage. His hockey stick swayed back and forth as he glided along. I watched him skate until he disappeared.
Trigger.
I stumbled into the house and grabbed a pen and paper.  I tried to write it out and then set it aside by shoving it into my bulging treasure trove file of heartbreaking notes.
I'll get back to them one day.
It's my written way of calling a friend. My lifeline of sorts.
And then today, I had to drive into town to drop something off to my client.
I was feeling good. Until Nights in White Satin came on the radio.
I pulled into a parking lot where I could close my eyes and breathe.
And just like that, a flashback.
♪ Nights in White Satin, never reaching the end. Letters I've written, never meaning to send ♪
It was 1968. We had just left the hospital. He was driving. Her burns were severe. Worse than anything I had ever seen. And the pain she was in. I was afraid she would die. Afraid of being afraid.
So afraid.
Nights in White Satin came on the radio.
♪ Gazing at people, some hand in hand. Just what I'm going through they can't understand ♪
He pulled the car over. And buried his face in his hands. He let out a God-awful guttural sound.
I loved him. I hated him. I pitied him. I pitied myself.
♪ Beauty I've always missed, with these eyes before. Just what the truth is, I can't say any more ♪
I knew then, as I tried to block out his wailing that as a family we were cooked.