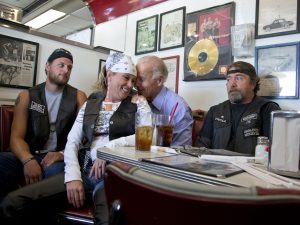 I decided to write this blog post for two reasons:
#1: My Republican friends are angry, and rightly so.
#2: As a MeToo I can't tolerate stupid.
Plus, does Joe Biden think his inappropriate touching is funny?
I don't know about any of you, but the above photo that I chose for this blog post is especially creepy. It makes my skin crawl.
First off, these two biker guys from Ohio don't know what the heck to do.
The guy on the left is rolling his eyes at the guy on the right.
And the guy on the right, is side-eyeing the whole seedy scene, like WTF?
And secondly, is this woman married to one of these guys????
I don't know about you, but if I were her significant other, I'd be extremely annoyed. (Extremely annoyed is putting it mildly.)
I mean, back off Joe.
So, in answer to my friend Ken's VERY valid question:
"And by the way America this picture is OK because the creepy old white guy is a Democrat where is #MeToo?"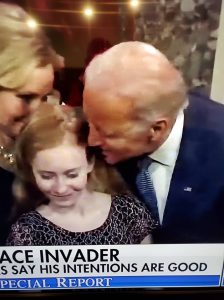 I can't answer for every #MeToo, but I'm here Ken, and I'm disgusted.
And I will not vote for Joe Biden.
I would first like to say this about anyone running for president:
IF YOU'RE 70 OR OLDER, YOU NEED NOT APPLY.
And that includes Bernie.
And Trump.
Oh, wait. Trump can't quit.
Because if he does, he'll probably get arrested.
Sad.
Anyway, let's get back to Biden.
Seriously Joe?
You see the photos.
Don't you think they look creepy?
Do yourself a favor.
And don't run.
But if you choose to run, exercise some self-control.
AND STOP TOUCHING PEOPLE.
And don't try to make a joke out of it.
Because inappropriate touching is not funny.
Oh, and as far as asking if it's okay to touch someone.
You think asking and having someone say yes makes it okay?
NO!!!!!!!!!!!!!!!!!!!!!!!!!!!!!!!!!!!!!!!!!!!!!!!!!!!!!!!!!!!!!!!!!!!!!!
It doesn't make it okay.
Stop touching people.
Because if you ask, they will probably say yes, even though they don't mean yes.
AREN'T YOU GETTING IT?
YOU'RE POWERFUL, SO PEOPLE DON'T WANT TO SAY NO TO JOE.
Stop asking, and stop touching.
And above all, stop joking about it.
Joe,
PLEASE.
I used to have a lot of respect for you.
But your time has passed.
For a lot of reasons.
You've been a stand-up guy.
So do the right thing, and don't run, don't touch, and don't joke.