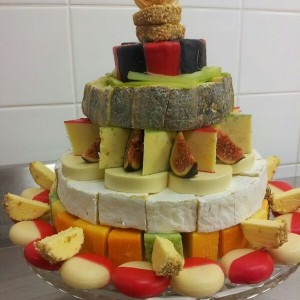 I love, love, love cheese. But serving cheese before dinner can oftentimes kill everyone's appetite.
So I like to change it up and serve my cheese after dinner. It's the perfect way for your guests to appreciate it in smaller portions, with a more mindful and enlightened purpose.
There is no better way to finish off your opened bottles of wine after dinner than with a nibble here and there of cheese.  And offer up some dessert wines for an even better experience.
Cheese makes a superb contrast to overly sugary desserts, making it the perfect alternative, offering just a hint of sweetness to finish off your meal. There's nothing quite like the complex flavors in cheese to end a meal. I enjoy and crave it as much as sugar.
Honey, jam, chutney, mostarda, fresh or dried fruit, nuts, prunes stewed in port wine, crusty French or dark bread, and homemade panforte will further enhance and beautify your cheese platter.
Most cheese belongs to one of three basic categories: soft, firm, or blue. For a well-rounded variety, you should choose one from each group.
For me, a trio of cheese is the perfect ending to a night of entertaining. You don't need to overload the plate with a ton of cheese—three samplings should be sufficient. I don't know why, but in the world of cheese, a three-cheese offering is usually what's served up: a creamy, a hard and of course, a blue.
Unless you want to make a cheese statement, like building a cheese work of art. Then you should go for it—and add all the cheese your heart desires. I happen to love this three-cheese wanna be wedding cake. It's super simple to create and will definitely impress.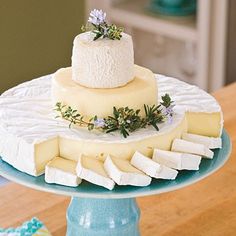 Some category recommendations:
Soft: Brie, Brillat-Savarin, Camembert, Constant Bliss, Epoisses by Berthaut, Stinking Bishop
Firm: Cheddar, Comté, Double Gloucester, Gouda, Saxon Shires
Blue: Cremificato Verde Capra, Gorgonzola Dolce, Stilton, Valdeón, Cambozola
Need further cheese clarification?
SOFT
Brie: My favorite brie is St. André from the coast of France and is lavish and tasty enough to take center stage on your cheese plate.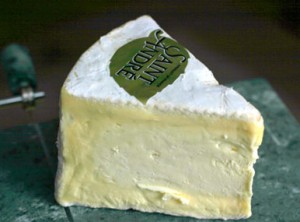 It is a pasteurized cow's milk cheese, covered with a satiny, edible rind, although I usually eat around it to better enjoy the deliciously rich, buttery, and silky, salty center.
Brillat-Savarin: This decadent triple cream cheese from Normandy is perfect for dessert. The mushroom and hazelnut flavor combined with its buttercream texture make it one of the silkiest triple creams you will ever taste. Serve with crusty, French bread, or drizzle a tiny bit of honey over it for a standout flavor.
Camembert: This creamy cheese has an earthy, woody taste, with a hint of mushroom and nutty overtones. It has a buttery flavor with a soft, yellow interior and a thin, edible white rind.
Constant Bliss: This dream cheese reminds me of kettle corn: sweet and buttery, with a mild hint of saltiness. At the finish, there is an almost citrusy grapefruit flavor to it.
Epoisses by Berthaut: Made in a tiny town in the Burgundy region of France, Epoisses by Berthaut is one of the great cheeses of the world. But it might also be one of the stinkiest. It's so pungent that it is banned on public transportation in France—a country remarkably tolerant of its strong cheese aromas. But don't let the smell turn you away because it's rich, creamy interior and edible reddish-brown coating is so worth it.
Stinking Bishop: Made from pasteurized cow's milk, dating back to the Cistercian monks who once settled in Dymock  Gloucestershire, in the south west of England where this cheese is made. Suitable for vegetarians, it is a spectacular cheese experience and when served at room temperature, it will dramatically run across the entire plate, so give it plenty of room.
FIRM
Cheddar: The older the cheddar, the better the cheese as far as I'm concerned. My favorite is Cabot's clothbound cheddar.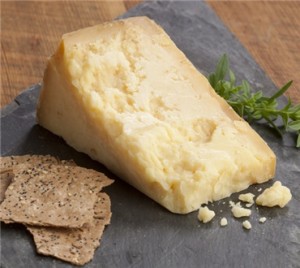 It has a wonderfully crumbly texture and nutty aroma, and the flavor is deeply savory and slightly tangy with a caramel sweetness to the finish.
Comté: This creamy, nutty-tasting French version of Gruyere absolutely deserves a spot on your cheese platter. It has an earthy flavor and a delightful texture.
Double Gloucester: Rich, buttery Double Gloucester is crafted with extra cream for a mild yet flavorful cheese, with notes of nuttiness, citrus, and hints of onion. The full-cream used to make Double Gloucester gives it a rich, buttery taste and flaky texture.
Gouda: As long as you find a Gouda that's aged for longer than two years, you'll revel in the sweet, caramel taste and slight crunchiness of the cheese.
Saxon Shires: A wonderfully flavorful layered cheese, Saxon Shires is also known as "Five Counties Cheese" because of the variety of cheeses that make up its five delicious layers.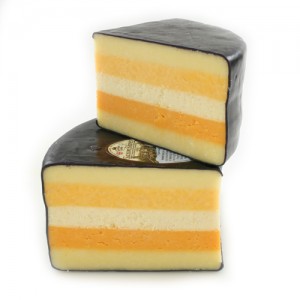 The texture actually changes piece by piece, for a unique taste experience in every bite. The five cheeses are Double Gloucester, Caerphilly, Cheshire, Leicester, and Cheddar. This cheese has a dramatic appearance and an especially pleasing flavor. If you're a fan of any of these British classics, this is definitely worth a try.
BLUE
Cambozola: A mild and triple creamy delight with just a hint of blue veining.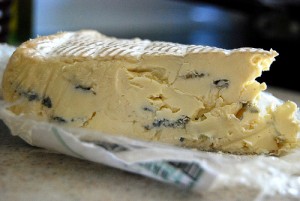 Think Gorgonzola crossed with Camembert, which makes it the perfect choice for those who are intimidated by the intense blues.
Cremificato Verde Di Capra: This Italian cheese is light and lemony and perfect for blue beginners. It's very dense, almost like fudge, yet creamy. There is only a hint of salt and blue bite.
Gorgonzola Dolce: Almost spreadable, with a consistency of vanilla ice cream, Gorgonzola Dolce is soft and creamy with a hint of tang and sweet to it. Its bright white interior is laced with streaks of blue, giving it an impressive appearance to match its incredible flavor.
Stilton: Also known as the "King of English Cheeses," the Blue Stilton is a semi-soft, creamy and crumbly cheese that gets tastier with age. Stingingly sharp and salty, the balance of these two traits are incredibly harmonious and satisfying.
Valdeón: This bold, salty and sharp blue is from Spain. You know it's the real deal because it comes wrapped in sycamore maple leaves. Be forewarned that this cheese is in-your-face and not for cheese wimps.
For an enjoyable, unforgettable and tasty combination of both firm and blue, try the layered combo of Stilton and Double Gloucester, called Huntsman.
Huntsman: This layered dream cheese is made from two British standards. Double Gloucester, a mellow, tangy, and delicious double cream cheese and Stilton, the richly-veined, smooth yet creamy blue whose flavor is distinctive and surprisingly soft.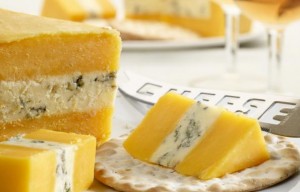 The beautifully layered presentation of these two classics feature artistic layers of the orange-hued Double Gloucester enveloping the Blue Stilton and makes a most stunning impression on your cheese tray.
Here are some recipes I found along the way to add even more dimension to your first-class cheese plate:
Rosemary Raisin Pecan Crispy Bread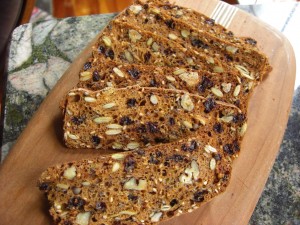 1 cup flour
1 teaspoon baking soda
1/4 teaspoon Salt
1 cup buttermilk
1/8 cup brown sugar
1/8 cup honey
1/2 cup raisins
1/4 cup chopped pecans
1/4 cup roasted pumpkin seeds
1/8 cup sesame seeds
1/8 cup flax seed, ground
1 teaspoon chopped fresh rosemary
Preheat oven to 350° degrees. Mix together the flour, baking soda, and salt in a mixing bowl.  Then combine the buttermilk, brown sugar, and honey and mix it well.  Then combine the raisins, pecans, pumpkin seeds, sesame seeds, flax seed and rosemary and stir until blended. Grease an 8×4 bread loaf pan and pour the batter into it. Bake for about 35 minutes, or until golden and springy to the touch. Remove from the pan, place on a wire rack and cool. The bread needs to be very cool before slicing it, so you may want to put it in the freezer for a few minutes. Reduce the heat in the oven to 300 degrees. Once the bread is cool, slice it as thin as possible, and place them in a single layer on an ungreased cookie sheet. Bake them for 15 minutes, then turn them over for another 10 minutes or until crispy and golden brown. Makes about 4 dozen crackers.
Panforte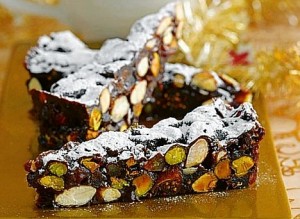 5½ oz. shelled pistachios
5½ oz. blanched almonds
6 oz. dried figs, quartered
3½oz. mixed peel
1 teaspoon pumpkin spice
2 tablespoons cocoa powder, sifted
1oz. plain flour
1oz. butter
5½ oz. honey
5½oz soft brown sugar sifted
Confectioner's sugar, to serve
Preheat the oven to 300 degrees. Grease an 8-inch square cake pan and then line the base with parchment paper. Combine the pistachios, almonds, figs and mixed peel in a mixing bowl. Sift the pumpkin spice, cocoa and flour over the mixture and stir well to combine all the dry ingredients. Then melt the butter, honey, and brown sugar together in a saucepan over medium heat. Stir until the mixture is combined well and just starts to boil. Pour the mixture on top of the dry ingredients, and mix well. Transfer all ingredients to the cake pan and make sure it is level by pressing it down with the back of a spoon. Bake in the oven for approximately 45 minutes, or until it is bubbling slightly. Remove the pan from the oven and cool completely, before removing from the pan. Dust panforte with confectioner's sugar, and slice.
Dried Fruit Mostarda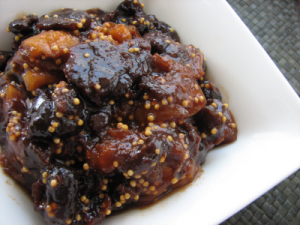 8 oz. dried apricots, quartered
4 oz. dried cherries, halved
4 oz. dried figs or prunes, quartered
1/2 cup sugar
3 tablespoons Dijon mustard
2 tablespoons brown mustard seeds
2 tablespoons canola oil
1 teaspoon cayenne
Kosher salt, to taste
Place the dried fruit in a saucepan, and cover, just barely, with water or sweet white wine. Bring the ingredients to a boil over medium-high heat; occasionally stirring, and until the apricots and cherries are plumped and the liquid is reduced, about 30-40 minutes. Let cool.