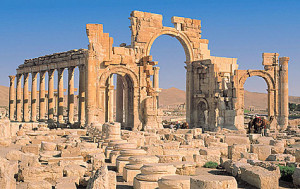 ISIS tore through the historic city of Palmyra on Wednesday, and by evening this pearl in the heart of the Syrian desert belonged to them.
When I read the headline this morning in The New York Times, I instantly recalled the article I wrote about Palmyra for worldpress.org—in 2004. You can read my full article from 2004 here: Palmyra: Ancient City in the Sand
The splendor and rich history of Palmyra, combined with my Syrian Christian heritage on my father's side, was the driving force behind my writing the article in the first place.
What I didn't know at the time I wrote about this ancient, long-abandoned Roman city, was that Palmyra sits among gas fields and a critical network of roads across Syria's central desert. Gas fields and road networks are clearly much more valuable to ISIS than the crystal blue sulphurous spring water rising out of an underground channel that I wrote about.
What I do know is that ISIS has no respect for ancient sites, and they have been destroying them at a fairly fast clip. As they have swept across Syria and Iraq, ISIS has been adept at damaging and annihilating ancient sites and sculptures, condemning them as idolatry.
We already know that ISIS has no respect for human life, so destroying Palmyra would be the least of their crimes.
Irina Bokova, the Director-General of Unesco, the United Nations agency that works to protect historic sites had this to say: "I reiterate my appeal for an immediate cessation of hostilities at the site. I further call on the international community to do everything in its power to protect the affected civilian population and safeguard the unique cultural heritage of Palmyra. Finally, it is imperative that all parties respect international obligations to protect cultural heritage during conflict, by avoiding direct targeting, as well as use for military purposes."