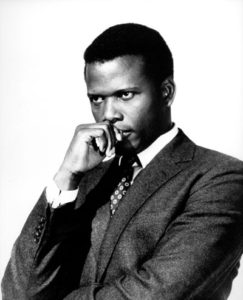 On February 20, 1927, Sidney Poitier was born in Miami, Florida. His parents were poor immigrant farmers from the Bahamas, where he and his family eventually returned.
When he was 15, he moved back to Florida, eventually making his way to New York's Harlem where he became a dishwasher.
He served in the army, and then joined the American Negro Theater working there as a janitor in exchange for drama training.
In 1961, while the Congress of Racial Equality (CORE) was organizing the "Freedom Ride" Poitier appeared in his first major movie appearance when he played Walter Lee Younger in A Raisin in the Sun. While Poitier's fictional character was mired in neighborhood tensions over interracial population in Chicago, the original Freedom Riders were being beaten by mobs in several places, including Birmingham and Montgomery, Alabama.
The movie was terrific, but Poitier and the film didn't get much attention. If you haven't seen the movie, I strongly urge you to do so.
Two years later, a quarter of a million people participated in the March on Washington on August 28, 1963, and heard Martin Luther King Jr. deliver his "I Have a Dream" speech.
That same year, Poitier starred as Homer Smith in the 1963 movie Lilies of the Field, and he was finally recognized as the star he was. The story of an African American itinerant worker who encounters a group of East German nuns in Arizona, who believe Smith has been sent to them by God to build them a new chapel, hit moviegoers hard.
I will never forget the last scene of the film, with Smith slipping quietly away into the night.
I recall my mom weeping next to me in the theater, and my grandmother later telling me "things were changing."
Changing, indeed. The movie debuted just one month before Kennedy's assassination.
Poitier's role as Smith earned him an Academy Award for Best Actor, making him the first African-American man to win the honor.
I saw both movies as a child, but to be honest, I was too young to fully understand the importance of the films, or how talented Poitier was.
It wasn't until 1967 when I was fourteen that I fell in love with Poitier in his role as a high school teacher in To Sir With Love, a British drama film that dealt with social and racial issues in an inner city school.
It was also in 1967 that the changing times had divided most Americans into "them" and "us."  Following a police raid on a black power hangout, Detroit erupted into the worst race riots our country had ever experienced, with 43 people dead—33 African Americans and 10 whites. Hundreds of racial disturbances were reported across the country that year, including major riots in Tampa, Cincinnati, Atlanta, Newark, Plainfield and Brunswick, New Jersey, which killed at least 83 people. It was also the year that Muhammad Ali, formerly Cassius Clay, was stripped of his heavyweight boxing title for resisting military draft as a Muslim minister in the Nation of Islam.
I am embarrassed to say that at the time I didn't fully comprehend any of it.
But To Sir With Love left an indelible mark on me and forever changed my view of black vs. white.
Poitier played teacher Mark Thackeray, and it was the first crush I ever had on an actor.
I can still vividly recall when at their end of the school year class dance there was a "ladies choice," and tough girl Pamela chose Thackeray as her dance partner. That scene hands down just blew me away.
The film's title song "To Sir With Love," sung by Lulu (who played the unforgettable Barbara Pegg in the movie), reached number one on the U.S. pop charts.  I can't tell you how many thousands of times I played that 45 record. (See the YouTube video of it below.)
In the same year, Poitier followed up with In the Heat of the Night and Guess Who's Coming to Dinner, where he starred opposite Katharine Hepburn, as a black man in love with a white woman.
Art indeed imitated life—the film debuted the same year that the Supreme Court legalized interracial marriage in the landmark case Loving v. Virginia.
The lyrics of To Sir With Love ended with "A friend who taught me right from wrong
and weak from strong, that's a lot to learn."
But if I've learned anything, it's something my French-American grandmother used to tell me over and over again: Plus ça change, plus c'est la même chose.   The more things change, the more they stay the same.
Happy 90th Birthday Sidney.