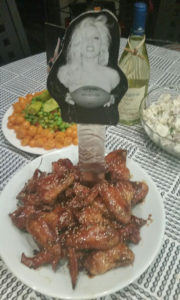 Lady Gaga in my BFF's platter of chicken wings.
I promised in my last blog post to move on, and stop talking politics.
But to be honest, I am still obsessed with all things political.
But a promise is a promise, even though my heart and mind isn't into much of anything else these days.
And try as I could, the only thing I could think of to blog about, is last Sunday's Super Bowl and what I ate.
I know, it's old news, but I'm trying here!
So here goes…
I love Super Bowl parties.
The number one reason? It's all about the food.
…With a few commercials and a half-time show thrown in.
Oh, and of course, there's the football game.
And yet another excuse to party hardy.
And regardless of whether I am asked to bring something or not, I always show up with my favorite go to's:
My do-it-yourself platter decorations, and my kick-yo-ass spicy boneless buffalo chicken.
Since I need to fill up some blog space here, I thought I'd throw in a few Super Bowl stats to stretch this thang out.
Did you know that Americans spent more than $50 million on food for this last Super Bowl? (That's a lot of moolah.)
According to the National Chicken Council (yes there is such a thing), more than 1.3 BILLION chicken wings were consumed over Super Bowl Sunday weekend. That's enough wings to circle the Earth almost three times. They also estimated that of the wings eaten during Super Bowl weekend, 75 percent came from restaurants or food service outlets, and 25 percent were homemade, which means abut 325 million wings were picked up at grocery stores and supermarkets.
When I showed up at my local grocery store Super Bowl Saturday to pick up chicken, the wings were gonzo.
Shoppers were scurrying and snooping around in the meat department, while others were begging the butcher for a miracle. Good thing I was making boneless buffalo chicken breast!  (See my recipe below.)
Super Bowl Sunday is also hands down, the busiest day of the year for pizza places. Domino's alone sold about 12 million slices of pizza that day.
And don't forget about the guacamole dip (8 million pounds), tortilla and potato chips (14,500 tons), popcorn (4,000 tons) and lots and lots and lots of beer.
Estimated Super Bowl Sunday calorie consumption was approximately 1,000-2,000 per person, almost as much as the average person eats in an entire day.
Antacid sales increased by about 20 percent on the Monday after the Super Bowl, and approximately six percent of Americans called in sick.
I like to be creative and make food markers using a Super Bowl theme.  They're super easy, and everyone raves about them.
I simply find some appropriate photos online, print them out, tape them onto cardboard, create a cardboard post, and wrap the post in aluminum foil.
Take a look at this year's Super Bowl marker menagerie: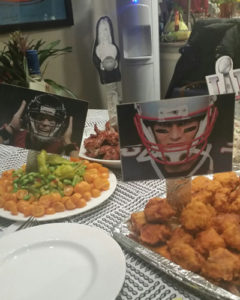 And who knew my Matt Ryan food marker would be so prophetic? (Poor Matt.)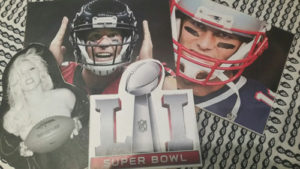 Now for my Boneless Buffalo Chicken recipe: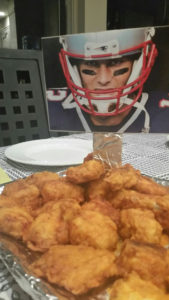 Boneless Buffalo Chicken
1 pound skinless chicken breast (1" thick – cut into 2" x 2" pieces)
3 cups flour
1 ½ cups buttermilk (Fat free works)
1 ½ teaspoon salt
¾ teaspoon ground black pepper
Peanut Oil (great for frying, but vegetable oil is ok too)
Hot sauce
¾ cup hot sauce
¼ cup water
1 tablespoon butter
¼ heaping teaspoon cayenne pepper
Blue cheese dressing
4 oz. Blue cheese, crumbled
1 cup sour cream
¼ cup mayonnaise
1 teaspoon garlic powder
1 tablespoon red wine vinegar
Salt and pepper to taste
Sauce directions: Place sauce ingredients in small pan and simmer 4-5 minutes until well blended. Remove sauce from heat and set aside.
Boneless Chicken directions: Mix flour, salt, and pepper in a bowl. Place buttermilk in a separate bowl. Make sure chicken is cut into pieces.  Heat oil for frying.
Dip chicken pieces into the buttermilk and then into the flour.  Gently shake off excess flour and carefully place pieces into hot oil and fry until golden brown.  Remove chicken pieces and drain them on a paper towel.  When you are ready to serve the chicken, place them in a large container and cover with the hot sauce.  Place a lid on the container and gently shake or stir until all nuggets have been coated.  Then place the chicken nuggets on a non stick baking sheet and bake in a 350 degree oven for 10-15 minutes.  Serve with blue cheese dressing.