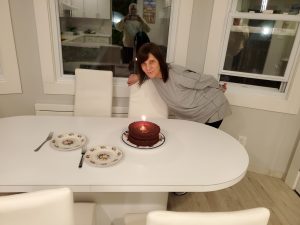 Before the coronavirus, I didn't want my birthday to come.
I was not looking forward to turning 67, and my thoughts kept going back to my younger days when I had a lifetime of living left.
For weeks before my birthday, I kept asking myself: How the hell did I get here so fast? To be sure, those 67 years flew by.
But my pre-corona outlook on everything has changed.
Now, I'm looking at my birthday, my life, my loves, and my future so very differently.
Going forward, I keep promising myself that I'm going to make significant changes.
I'm planning on working less and playing harder.
I'm going to spend more time with family and friends.
And I want to visit all of those states I haven't yet had the opportunity to experience, although not so united these days.
And I'm not gonna lie, a ton of dark thoughts about what I won't be doing crept into my psyche as well, because…
Well, if you know me, you know why.
I will never again shake someone's hand without thinking ew, and will probably never hug a stranger.
And I'm reasonably sure I will never again venture into a crowded anything.
But I don't want to dwell on the corona negatives right now.
I'm trying to focus on the good that can come from the virus.
Something good has to come out of all this misery, right?
Going forward, I refuse to wait out the rest of my life.
While in quarantine, I've been watching way too much news, but I can't help myself.
The countless thousands of innocent people dying so painfully and senselessly make me sad mad.
And I feel compelled to watch the news all day and all night, wishing and praying for good news, or maybe even a miracle.
All those poor souls suffering, most without their family with them, and then dying, just like that.
I force myself to ward off the need to turn on the television by reading.
On my birthday, I read that the Egyptians believed that a person dies, not once—but twice.
The first death was their final breath.
And the second death was the last time someone uttered their name.
The concept was profound and gave me some peace. Although I couldn't help but wonder who that last person would be for me.
That night I blew out my candle, and I made a birthday wish like no other before it.
And I know I'm not supposed to tell you my wish for fear that it won't come true.
But these are trying times, so here's what it was:
Please stop dying, and damn it, I want to live. But if I die, please let it be twice.