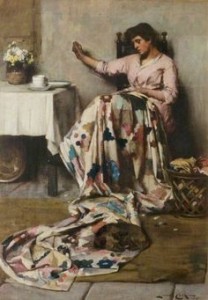 While cleaning out my attic many years ago, I found a dusty old box marked "special." It looked like my handwriting, but a much younger redaction. I opened the carton with genuine excitement, having literally forgotten the contents it held.
It was a patchwork quilt, a birthday gift from my grandmother on my twenty-first birthday. There was a card in the box, with an image of a beautiful yellow rose.  I opened the card and the sadness I felt took my breath away.  I couldn't bear to read her words and closed my tear filled eyes, and tried to remember her, as she was that day.
The memory was so loud, I could actually hear the excitement in her voice as she chattered on in her thick French accent, while I ripped apart the meticulously wrapped package. I could almost smell the sweet aroma of the fresh baked cookies she was making for me that day.
My beloved grandmother, my surrogate mother, was a seamstress. And although we had very little money, I always wore gorgeous and elegant clothes.  We would pour through the pages of the latest fashion magazines and together picked out the most beautiful designs. "This is made for you," she would proudly exclaim, tearing page after page out of the magazines.  She needed no pattern—every measurement of my body had been devotedly memorized in inches and yards.
She had a job boxing bullets on an assembly line all day—but at night, while others were sleeping, there she was, hunched over her sewing machine, working feverishly to complete something special for me—a dress, coat, suit. Her way of saying "I love you."
The memories, in flashing snapshots kept coming—one after the other. The sound of her sewing machine, and the gentle humming of her favorite tune. The puppy we picked out when I was five. The clownish self-portrait I painted for her, that she hung so proudly over her bed. The multi-colored sweater coat, I still wear to this day. Her mother's treasured cameo pin, worn near and dear to my heart. Her fear as she lay dying in my arms.
And now, better late than never, the flashback of the day she proudly presented me with my birthday gift. I struggled to recall my younger self, opening the beautiful card with the single yellow rose and reading the message inside. "A patchwork quilt for your 21 years," it said.
The quilt was truly magnificent. Handcrafted, full of vibrant colors, large enough for a king size bed.  And yes, I recollected thinking that while I thought it was beautiful, I was slightly disappointed in her choice of gifts. At twenty-one, I was moving around a lot and didn't even have a bed large enough for this patchwork of remnant material.
Remnant material?
A sharp pain spread across the center of my chest. I frantically pulled the quilt from the musty, old box, laid it on the floor, and caressed the hundreds of squares of material lovingly.  Why, this was no patchwork quilt of remnant material.  This was a pastiche of every dress, suit and article of clothing my grandmother had so laboriously made for me during my first twenty-one years.
A patchwork quilt of me.
The red dotted swiss I wore at a surprise party for my ninth birthday, the hunter green velvet I wore for my sweet sixteen, the lavender satin from my prom dress, the yellow silk jacquard worn on my first job interview.
Overwhelmed, I wrapped myself with her labor of love and cocooned myself in the yards of memories, shivering from the realization of what I had just discovered.
How could I have missed her sentimental intention? How shallow had I been, to think this patchwork of my life was merely remnants of old material?
I cried then for the lost opportunity to embrace her tightly and to express my reverential sense of gratitude to her for preserving my life in this way.
As my tears stained my grandmother's masterpiece, I spoke out loud, apologizing to my selfless and lonely grandmother for all the time lost, asking her forgiveness for not understanding or appreciating the powerfulness of my heirloom.
Swaddled in my precious gift, still clinging to my birthday card, I was consumed by the heart-wrenching memories that are but a patchwork quilt now.