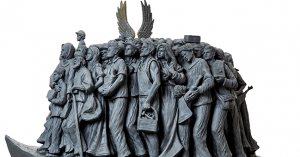 The sculpture "Angels Unaware" by the Canadian artist Timothy P. Schmalz, depicts 140 migrants and refugees from various historical periods traveling on a boat.
The displaced people include the Virgin Mary and Joseph, Jews fleeing Nazi Germany, and a crowded mass of others.
In the center of the sculpture, two wings majestically soar; proof that someone in the crowd is an angel.
The sculptor's inspiration came from scripture in the New Testament.
In Hebrews 13:2, the passage reads: "Do not forget to show hospitality to strangers, for by so doing some people have shown hospitality to angels without knowing it."