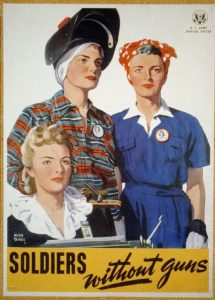 In the late 1930s, my grandmother Mammy (pronounced MayMe) came to Bridgeport, Connecticut from Caribou, Maine as a single mom in search of a better life for her and her young daughter.
Soon after she arrived, millions of unemployed Americans went to work to make weapons of war, many of whom were women.  My grandmother was one of them.
She had a 3pm-11pm shift at Remington Arms boxing bullets on an assembly line.
She had other jobs as well—at least three or four at the time, but Remington was her bread and butter.
Remington Arms was a sprawling 73-acre manufacturing complex on Barnum Avenue in Bridgeport and was among the biggest munitions factories in the world, employing over 17,000 workers and producing tons of ammunition and weapons each year.
For women like my grandmother, the war brought enormous change in American women's lives and was a crucial step on the road toward equal rights.
Before the war, women were second-class citizens and were unfairly discriminated against in the workplace. World War II was first a stimulus, and then became the model for women like Mammy and solidified their place in the job market.
I'd like to think that my grandmother's experiences helped to lay the groundwork for the women's movement in later years. And I know for sure that her experiences in the factory and her work on the assembly line helped to shape the way she raised me.
Whenever Mammy spoke about her work at Remington Arms, she recalled it fondly. While we never spoke of her job in terms of whether her work helped the democratic cause, she always spoke of her pride in the work she did, including the enormous amount of overtime she booked, week after week, month after month.
For Mammy, her job at Remington Arms was a vehicle for lasting change and offered her hope for a prosperous future. It altered her thinking about who she was and gave her pride in what she had accomplished during the war.
As a result of her work boxing bullets, the American dream was more than wishful thinking. It was finally within her reach and had become her goal.
World War II was the catalyst for change, and America was undeniably transformed by the end of it.
And so was Mammy.