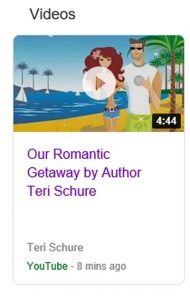 My Youtube video for my novel Our Romantic Getaway
It wasn't enough that I spent five years writing my debut novel, Our Romantic Getaway.
Now I have to spend five + years promoting it?
As a marketing and advertising consultant who makes a living advising clients on how to boost their businesses, the last thing I want to do is get up on a soapbox and sell me—or my book.
So I haven't done all the usual things authors need to do like having a launch party, setting up signings at local bookstores, guest speaking and book spieling to the uninterested masses who attend myriad tours for the free food and drink or paying experts thousands of dollars to hype my novel.  I'd much rather spend any available time I can drum up penning the sequel to Our Romantic Getaway.
And I wasn't convinced that a YouTube video would help me to sell books either, although I've seen a few very well produced trailers that had me wavering. But they were mostly live action and extremely expensive productions.
But the marketing side of me won over and I decided to give it a whirl and finally answer the question I have been asking myself for several months: Can a YouTube book trailer (with music!) do the selling for lazy me?
So here it is folks. I hope you like it. Well, truthfully, it's okay if you don't, as long as it sells my book.  https://youtu.be/XZMyJ7DUFn4