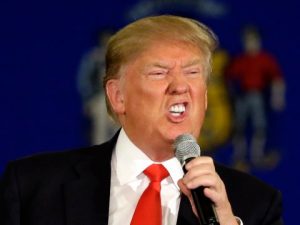 Something YUUUGE happened to me this weekend. The harrowing and disturbing thought occurred to me that Donald Trump might actually end up in the White House.
I really thought that his over-the-top pontifications, offensive, misogynistic rants, narcissistic proclamations, beyond-belief exaggerations, self-adoration of all things Trump and lies heaped on top of more lies would be wearing thin with his supporters right about now.
Hugh Hewitt, a well-respected conservative radio talk show host, said it best: "Ignoring Trump's flaws is like ignoring Stage IV cancer."
But Trump supporters are all in. At all costs. A "shove it" to "the rest of us." To hell with cancer.
According to the professional fact checkers, Trump is the most compulsive liar to seek high office.
The nonpartisan Politifact has rated only 2 percent of Trump's assertions as 100% accurate. The Washington Post has rated 70% of Trump's statements as lies. Instead of self-reflecting, and making some presidential tweaks (vs. non-presidential tweets), Trump barred the Washington Post reporters from campaign events.
I am so sick of the Trump show all the time. Every time he opens his mouth with another one of his Trumpisms I can't help but respond under my breath.
But there is zero point in muttering to myself. So I have decided to mutter out loud to hopefully get some of my frustration out in this blog post.
Trump: "If I decide to run for office, I'll produce my tax returns, absolutely, and I would love to do that."
The Teri Tome: I would love for you to do that as well.
Trump: "I know more about ISIS than the generals."
The Teri Tome: Yeah, okay.
Trump: "I never said Japan should have nukes."
The Teri Tome: Uh, yes you did.
Trump: "There is no drought in California."
The Teri Tome: Liar, Liar. Presidential wanna be pants on fire.
Trump: "The unemployment rate is 42 percent."
The Teri Tome: Last I checked, the unemployment rate was just under 5%.
Trump: "Students who participated in Trump University were provided a substantive, valuable education."
The Teri Tome: In the words of the late Will Rogers: "It ain't what you know, it's what you know that ain't."
Trump: "It's very possible that I could be the first presidential candidate to run and make money on it."
The Teri Tome: Okay, I concede, this is probably true.
Trump: "Putin is a nicer person than I am."
The Teri Tome: Okay, I concede, this is definitely true.
Trump: "Crime in the United States has gone through the roof."
The Teri Tome: Violent crime has dropped by 50% since 1990.
Trump: "When the pound goes down, more people are coming to Turnberry."
The Teri Tome: Not if the rising seas swamp Turnberry first.
Trump: "I have a club in Palm Beach that is open to everybody."
The Teri Tome: Trump's club is open to everybody who pays $100,000 to cover the membership fee.
Trump: "I think the only difference between me and the other candidates is that I'm more honest and my women are more beautiful."
The Teri Tome: Do you think I have the IQ of lint?
Trump: Trump Winery is the largest winery on the East Coast."
The Teri Tome: Trump Winery isn't even the largest winery in Virginia where it's produced. I prob have more wine in my liquor cabinet.
Trump: "I have more employees than anybody in the state of New Jersey."
The Teri Tome: P p p poker face, p p p poker face.
Trump: "Look at these hands. Are they small hands?"
The Teri Tome: Call me sight impaired, but they look smallish to me.
Trump: "I think Judge Curiel should be ashamed of himself."
The Teri Tome: Hmmmmm, I'm pretty sure Curiel is good."
Trump: "Just so you understand, I don't know anything about David Duke, ok?"
The Teri Tome: Sounds like someone's been living under a rock.
Trump: "I alone can fix it."
The Teri Tome: You're killing me here.
Trump: "I will be the greatest jobs president that God ever created."
The Teri Tome: Whoever told you to be yourself gave you the worst advice ever created.
Trump: "I will build a great great wall on our southern border and I'll have Mexico pay for that wall."
The Teri Tome: I've never seen such a small mind inside such a big head.
Trump: I'm really rich, I'll show you that in a second. And by the way, I'm not even saying that in a braggadocios."
The Teri Tome: Show me the money already.
Trump: "I am a constitutionalist. I am going to abide by the Constitution whether it's number 1, number 2, number 12, number 9."
The Teri Tome: Sounds like a lot of number 2 to me.
Trump: "I will be so good at the military your head will spin."
The Teri Tome: Now I get why some animals eat their own offspring.
Trump: "If I get the nomination, I'll win the Latino vote"
The Teri Tome: NO WAY, JOSE.
Trump: "As usual, Hillary and the Dems are trying to rig the debates so two are up against major NFL games."
The Teri Tome: The debates were scheduled back in September 2015 by the bipartisan Commission on Presidential Debates.
Trump: "I got a letter from the NFL saying 'this is ridiculous, why are the debates against' — because the NFL doesn't want to go against the debates because the debates are going to be pretty massive from what I understand."
The Teri Tome: Joe Lockhart, an NFL spokesman, confirmed the NFL never sent a letter to Trump.

Trump: "I like three debates. I think that's fine. I think it's enough. If somebody said, "one debate," I'd rather have three. I think they'll be very interesting."
The Teri Tome: Believe me, folks, the debates are going be interesting! And let me tell you, they're going to be YUUUGE, okay? I am expecting tremendous things during those debates! Great stuff. The best ever. They are going to be unbelievable. Think big things. Great. Big. Things. Unreal. Big league. Many people are saying this. They're going to be something never before seen in this country. Never ever seen. They are going to make your head spin. Ladies and gentlemen, we are talking yuuger than yuuuge.  
It's sadly obvious that Trump's supporters don't care if he is a pathological liar and missing a few screws. But the rest of us should.