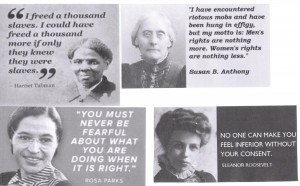 Possible honorees include, clockwise from top left, abolitionist Harriet Tubman; suffragist Susan B. Anthony; reformist First Lady Eleanor Roosevelt; and civil rights pioneer Rosa Parks.
In June of 2015, Treasury Secretary Jacob J. Lew asked the public the following question:
If you could pick any deceased woman from American history to adorn the $10 bill, who would be your choice?
The riled up response he received took him by surprise. He fully expected an outpouring of opinions about which woman it should be. Particularly given that the only woman who ever appeared on the face of a United States bank note was Martha Washington in the late 19th century, and only for an extremely brief period of time.
But what he wasn't expecting, were the pointed questions, stinging opinions, adamant suggestions, and angry complaints surrounding not women, but the two men whose portraits are on the $10 and $20 bills.
On the $10 is Alexander Hamilton, a revered and well respected founding father, and on the $20 is President Andrew Jackson, as reviled and vilified as Hamilton is revered.
And who could have ever anticipated that the timing of the $10 bill redesign would coincide with the Broadway smash hit "Hamilton?"
The popular opinion from the public?
Eject Andrew Jackson from the $20 and put whomever you want on it, but leave the $10 bill—and Hamilton, alone.
The unexpected number of responses from the public at large were adamant that Hamilton, the architect of the American financial system, and the first Treasury Secretary should under no circumstances be removed from the $10 note. And the majority of the public was outraged and unnerved as to how the current Secretary of Treasury could forever displace the first Secretary of Treasury.
The public response was also clear about their opinion that Jackson doesn't belong on the $20 bill at all, if not based on his opposition to national banking, then surely his abhorrent record of violence against Native Americans.
In response to the public outcry about Hamilton, the Treasury gave their assurances that Hamilton would somehow still remain on the $10 bill, more than likely as a secondary figure.
I think it will end up the other way around as usual. Hamilton will be the primary, and "some woman" will be the secondary.
The rollout of the redesigned $10 bill is expected to take place in 2020, which is also the 100th anniversary of the ratification of the 19th Amendment that extended the right to vote to American women.
*************************
HARRIET TUBMAN QUOTES
Every great dream begins with a dreamer. Always remember, you have within you the strength, the patience, and the passion to reach for the stars to change the world.
I grew up like a neglected weed – ignorant of liberty, having no experience of it.
I would fight for my liberty so long as my strength lasted, and if the time came for me to go, the Lord would let them take me.
'Twant me, 'twas the Lord. I always told him, "I trust to you. I don't know where to go or what to do, but I expect you to lead me," and he always did.
I had crossed the line. I was free; but there was no one to welcome me to the land of freedom. I was a stranger in a strange land.
Quakers almost as good as colored. They call themselves friends and you can trust them every time.
I had reasoned this out in my mind, there was one of two things I had a right to, liberty or death; if I could not have one, I would have the other.
SUSAN B. ANTHONY QUOTES
I declare to you that woman must not depend upon the protection of man, but must be taught to protect herself, and there I take my stand.
Men, their rights, and nothing more; women, their rights, and nothing less.
I distrust those people who know so well what God wants them to do, because I notice it always coincides with their own desires.
There never will be complete equality until women themselves help to make laws and elect lawmakers.
Cautious, careful people, always casting about to preserve their reputations… can never effect a reform.
I always distrust people who know so much about what God wants them to do to their fellows.
The older I get the greater power I seem to have to help the world; I am like a snowball – the further I am rolled the more I gain.
I do not consider divorce an evil by any means. It is just as much a refuge for women married to brutal men as Canada was to the slaves of brutal masters.
Join the union, girls, and together say Equal Pay for Equal Work.
Oh, if I could but live another century and see the fruition of all the work for women! There is so much yet to be done.
ROSA PARKS QUOTES
I have learned over the years that when one's mind is made up, this diminishes fear; knowing what must be done does away with fear.
Each person must live their life as a model for others.
Have you ever been hurt and the place tries to heal a bit, and you just pull the scar off of it over and over again.
The only tired I was, was tired of giving in.
I would like to be remembered as a person who wanted to be free… so other people would be also free.
Memories of our lives, of our works and our deeds will continue in others.
Racism is still with us. But it is up to us to prepare our children for what they have to meet, and, hopefully, we shall overcome.
I would like to be known as a person who is concerned about freedom and equality and justice and prosperity for all people.
My only concern was to get home after a hard day's work.
Whatever my individual desires were to be free, I was not alone. There were many others who felt the same way.
ELEANOR ROOSEVELT QUOTES
Great minds discuss ideas; average minds discuss events; small minds discuss people.
The future belongs to those who believe in the beauty of their dreams.
Women are like teabags. You don't know how strong they are until you put them in hot water.
You must do the things you think you cannot do.
It is not fair to ask of others what you are not willing to do yourself.
With the new day comes new strength and new thoughts.
In the long run, we shape our lives, and we shape ourselves. The process never ends until we die. And the choices we make are ultimately our own responsibility.
It takes as much energy to wish as it does to plan.
Life was meant to be lived, and curiosity must be kept alive. One must never, for whatever reason, turn his back on life.