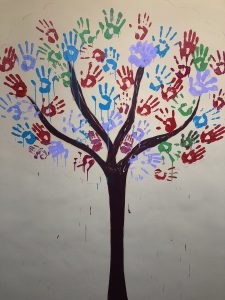 I could listen to Christmas music all year long. Listening to the music of the Christmas season takes me back to so many wonderful holiday memories.
Today I heard Jewel's Christmas version of her song, Hands, and thought back to December 1998, when my ten-year-old daughter was going through some crazy stressful stuff.
Looking back on it, she was wise beyond her years and incredibly courageous.
That night she pulled me into her room to watch an MTV video, which she said reminded her of us.
I was assuming the video would be something light and cute, but so not so.
The video was of the Jewel song Hands. The words and images chillingly resonated for so many reasons: Darkness indeed fears the light, poverty stole any golden shoes I might have wanted to wear, and I may be damaged, but never broken.
But what did the song mean to her?
My daughter said that Hands reminded her of the no-win situation that she was smack in the middle of, with no easy way out. And that although she was young, she could still stand up for what was right and speak the truth, no matter what the consequences. She was adamant about the fact that she had a voice—her voice, and her hands were hers alone. As she spoke, her hands flailed about animatedly.
Her words were powerful, and I felt a profound sadness and overwhelming guilt.
I know she felt my pain because she immediately took those tiny hands and oh so gently embraced me.
My precious youngest child was way too young to be experiencing the disunity that engulfed her.
And every time I hear the song, or watch the video it reminds me of her moral strength and steadfast resilience.
Hands
If I could tell the world just one thing
It would be that we're all ok
And not to worry because worry is wasteful
And useless in times like these
I will not be made useless
I won't be idled with despair
I will gather myself around my faith
For light does the darkness most fear
My hands are small, I know,
But they're not yours they are my own
But they're not yours they are my own
And I am never broken
Poverty stole your golden shoes
But it didn't steal your laughter
And heartache came to visit me
But I knew it wasn't ever after
We will fight, not out of spite
For someone must stand up for what's right
Cause where there's a man who has no voice
There ours shall go singing
My hands are small, I know,
But they're not yours they are my own
But they're not yours they are my own
And I am never broken
In the end only kindness matters
In the end only kindness matters
I will get down on my knees and I will pray
I will get down on my knees and I will pray
I will get down on my knees and I will pray
My hands are small, I know,
But they're not yours they are my own
But they're not yours they are my own
And I am never broken
My hands are small, I know,
But they're not yours they are my own
But they're not yours they are my own
And I am never broken
We are never broken
We are God's eyes God's hands God's mind
We are God's eyes God's hands God's heart
We are God's eyes God's hands God's eyes God's hands
We are God's hands God's hands We are God's hands