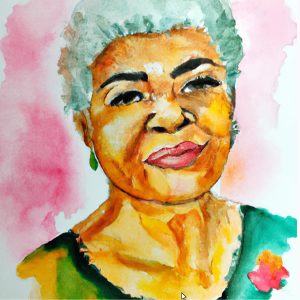 Maya Angelou was born on April 4, 1928 — an Aries, like me.
In June of 1973, my roommate at Delta Flight Attendant training school in Atlanta, Georgia, was a Black woman from Chicago, Illinois. Our training only lasted six weeks, but our friendship spanned several years.
I don't remember her name, but I'll never forget the secret she shared with me.
As a result, I shared my secret with her as well.
The Christmas following our Delta graduation, she gave me Maya Angelou's book, I Know Why the Caged Bird Sings.
Maya Angelou was raped at seven years old — her attacker was dating her mother back then. Maya eventually told her brother about the attack, who subsequently informed their mother. And lucky for Maya, her mother reported it to the police.
Her rapist was found guilty but spent just one day in jail. Immediately after his release, he was found kicked to death.
Some might be appalled by what I think, but in my mind, justice was served as best as it could be.
Upon learning of her rapist's death, Maya refused to speak for nearly five years, thinking that her saying his name had killed him. Oh, if it were only true for all of us.
In the five years that she was intentionally mute, she depended solely on her listening and observing skills, to which I can relate.
Growing up in Bridgeport, Connecticut, my Franco-American grandmother taught me that kids are to be seen but never heard. When my grandmother didn't want me to know what she was saying, she spoke to my mother and great-grandmother in French.
As a result, I became adept at listening, observing, and translating conversational French into English.
It was Angelou's teacher, Bertha Flowers, who helped her regain her voice, and the rest is poetic history.
Over the years, Angelou's words have been an enormous comfort and continue to resonate deep within me.
Here are some of my favorite words Maya Angelou taught me to live by:
"There is no agony like bearing an untold story inside you."
"A bird doesn't sing because it has an answer; it sings because it has a song."
"The caged bird sings with a fearful trill of things unknown but longed for still and his tune is heard on the distant hill for the caged bird sings of freedom."
"Each time a woman stands up for herself, without knowing it possibly, without claiming it, she stands up for all women."
"Every storm runs out of rain."
"Hate: It has caused a lot of problems in the world but has not solved one yet."
"You may shoot me with your words; you may cut me with your eyes; you may kill me with your hatefulness; but still, like air; I'll rise."
"The ache for home lives in all of us. The safe place where we can go as we are and not be questioned."
"You may not control all the events that happen to you but you can decide not to be reduced by them."
"It is time for parents to teach young people early on that in diversity there is beauty and there is strength."
"We allow our ignorance to prevail upon us and make us think we can survive alone, alone in patches, alone in groups, alone in races, even alone in genders."
"I learned a long time ago, the wisest thing I can do is be on my own side."
"My mission in life is not merely to survive, but to thrive; and to do so with some passion, some compassion, some humor, and some style."
"I love to see a young girl go out and grab the world by the lapels. Life's a bitch. You've got to go out and kick ass."
"If you're always trying to be normal, you will never know how amazing you can be."
"When you know you are of worth — not asking it but knowing it — you walk into a room with a particular power."
"If you're going to live, leave a legacy. Make a mark on the world that can't be erased."
"The idea of overcoming is always fascinating to me. It's fascinating because few of us realize how much energy we have expended just to be here today. I don't think we give ourselves enough credit for the overcoming."
"I sustain myself with the love of family."
"Hoping for the best, prepared for the worst, and unsurprised by anything in between."
"I've learned that people will forget what you said, people will forget what you did, but people will never forget how you made them feel."
"Develop enough courage so that you can stand up for yourself and then stand up for somebody else."
"You should be angry. You must not be bitter. Bitterness is like cancer. It eats upon the host. It doesn't do anything to the object of its displeasure. So use that anger. You write it. You paint it. You dance it. You march it. You vote it…"
"I am a Woman Phenomenally. Phenomenal Woman, that's me."