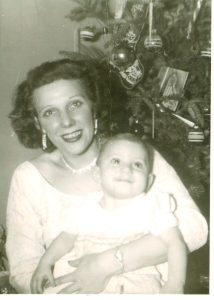 Today marks forty years since I lost my precious grandmother.
My grandma, who I called Mammy (pronounced May-Me), was my everything.
My mom had me at a very young age, so she had difficulty caring for me. Thank goodness for my grandmother, who so lovingly stepped in and took over for her.
As I got older, I understood the importance of Mammy and was very thankful that she raised me to be a strong, courageous, independent young lady.
She also taught me how to cook, clean, and bake. But most of all, she taught me how to be a loving mother and grandmother.
Everything I am is because of Mammy. And even though she was everything my mom couldn't be, that was okay for me. Because I knew that my mom was doing her best, and as long as I had Mammy, I felt safe.
The only downside to being raised by my grandmother was that I never knew what it was like to have a traditional "mom."
My grandma raised me as best she could, although there were always unsaid boundaries because she didn't want to hurt my mother's feelings or cut her out as a mom.
There were many occasions when I was told to lie and tell people that Mammy was my mother so as not to be poorly judged.
And then there were many times I freely lied — and answered "yes" when asked if Mammy was my mother. I learned early on that people could be cruel and unfairly judgmental regarding my untraditional family.
Of course, I always knew who my mother was, but with each leaving space for the other to step in, Mammy and my mom unintentionally left a lot of the parenting void up to me to fill in and figure out on my own.
And being from a "broken home" was a permanent stain, and as they say in Catholic speak, my cross to bear.
Let's just say that I didn't garner any trust points with the moms and dads of my friends, as they were wary of me and my unorthodox family unit.
For as long as I can remember, I have been a creative writer, voracious reader, and deep thinker.
One of my most treasured books was my children's dictionary. I can still see its bright yellow cover — the title displayed in a rainbow of primary-colored letters. I poured through the pages of my dictionary while most other kids were reading about magical and imaginary beings and lands.
There are so many words that I can still recall being used to describe me and my female dynasty as a kid.
If nothing else, I was a curious, practical child, so for every word spoken that I didn't understand, I would look up. Here are a few I can still recall coming up a lot back then.
Broken. The meaning of "broken" is having been fractured or damaged and no longer in one piece or in working order. That's not how I remember my "family" of women: My mom, grandmother, and great-grandmother were my pillars. Another word that I learned very young in life.
Pillars. A tall vertical structure of stone, wood, or metal used to support a building or as an ornament or monument. Or, in my case, they were flesh and bone pillars used to support and lift me up.
Awkward. Causing difficulty, embarrassment, or inconvenience. There was nothing awkward or embarrassing about me or the three women in my life, although sadly, my mother often considered me so. I sometimes wonder what she thinks of me now or if she thinks about me at all. I wish I could call and ask her, but that ship sailed a long time ago.
Even though Mammy has been gone for 40 years today, her memory still brings tears to my eyes, and I think about her every single day.
Rest in peace, Mammy. I miss you terribly, and I sure hope we meet again.