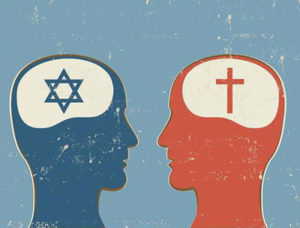 In light of all the anti-Semitism that has been seeping and creeping up since the recent presidential election, it got me thinking about Judaism, Christianity, and why I feel so loathe to discuss religion.
And talking politics isn't much better. Certainly not right now. Both of these topics are better left private.
Except most people close to us know who and what we are. Should our religion or politics define us? Make us loved or hated? Respected or denigrated?
The constant and continuing turmoil around the election results has been disheartening and worrisome. Swastikas here, Confederate flags, there, and dissension everywhere.
It's the holidays. We should be jingling, rejoicing, singing, wrapping, and planning for family get-togethers. 'Tis the season to be jolly, right?
And yet, our nation's recent political divisions have brought out the worst in us, prompting me to ask myself a weird-for-a-Jewish person question, as I poured over The New York Times this morning:
What would Jesus say about all of this?
A long time ago, and in another life, I had a close and loving relationship with Jesus.
If you know me or have read any of my blog posts, you know my family dynamic, which consisted of my Catholic grandmother, mother, and me, aka the fatherless child.
It was the three of us, not so much living, but more like surviving together on Huron Street, in Bridgeport Connecticut.
Father, Son, and Holy Ghost, so to speak.  Except we were Mother, Daughter, and Afraid of Ghosts.
Soon my great-grandmother joined us, and then we were a family of four. And a mighty four we were.
Four strong-willed, faithful Catholic females struggling to stay afloat in a swirling sea of men, with Jesus at the top of the food chain.
For any Catholics that might be reading this post, you get the Catholic thing. Fish on Friday, fasting before mass, confession, mortal vs. venial sins, and all of the other stuff Catholics do.
But I don't want to talk about all that. I want to use this blog-post opportunity to discuss Jesus and how I felt about Him all those many years ago.  And how I still feel about Him today.
I would first like to start out by saying that were it not for Jesus, I'm not sure who or where Teri would be today.
Because my Jesus was all about love, which included everyone; especially the scorned, the sick, the forgotten, the poor, the forsaken. Jesus was all about solidarity and unity. He would never tolerate hate, bigotry, or bullying.
My Jesus reached his hands out to everyone, and He would never discriminate.
And lest I should remind you, Jesus was the only male in my life. And what a fine specimen and example of an exemplary man He was.
He loved the marginalized. He blessed and exonerated all sinners. And as long as I had Jesus in my life, I knew I could get through anything.
Jesus was kind, loving, compassionate, and just. But my Jesus was also sad, and maybe even frightened. Because He knew, He was going to die. Jesus understood and accepted that all of us have sinned. All of us are imperfect, and yet He still loved us.
No matter how disappointed I felt about myself back in my other life, I knew Jesus was on my side.
Because Jesus wasn't judge-y, and would NEVER pick out some, but not others, to heal, to feed, or to bless.
My Jesus was omnipotent. And I believed with all my heart and all my soul, the first couple of sentences in the Apostles' Creed: I believe in God, the Father Almighty, Creator of heaven and earth; and in Jesus Christ, His only Son, our Lord.
A lifetime ago.
When I was thinking about converting to Judaism, it was the most painful and difficult decision I ever had to make in my life thus far.
And when I spoke of converting to my Christian friends, they would remark on how hard it was going to be for me to give up Christmas.
Giving up Christmas was the least of it.
Giving up Jesus was what was going to be near impossible. He was going to be my sacrifice, my lifelong penance.
As I sat before the Bet Din, a panel of three Rabbis, sitting high above me on a stage, I ironically and irreverently, thought of the Holy Trinity. The Holy Three.
While  I sat below the Jewish holy three, the men who had the power to authorize or deny my application to join the Jewish people, my thoughts reverted to what had occurred earlier in my already very long day.
I woke up to snow. I snuggled with my son. I had an argument with a certain someone. My punishment was no car.
So I indignantly walked to the bus stop and waited. And waited. And waited. I transferred three times. Three buses. And then trudged three long blocks in the slushy snow. Ignoring the irony of the threes was impossible.
And now here I was, cold and wet, facing three Rabbis who would decide my religious fate.
The Bet Din had prepared three questions for me, explained my sponsoring Rabbi.
Three questions.
It was out of my hands, I recall thinking to myself.  It's in Jesus' hands, I instinctively reassured my weary self.
My turning to Jesus was reactive. I was always in Jesus' hands. Those beautiful, delicate, blessed hands, marred by ugly bloody holes.
My thoughts of Jesus were interrupted by the first question:
"Tell us about your religious background."
I gave the holy three the CliffsNotes.
I stuttered, faltered, and jumbled up my sentences. My family of females, Bridgeport Connecticut, my Salvation Army clothes, our tenement apartment, the nuns, bake sales, weekly mass, my grandmother's rosary beads, my love of St. Ambrose Church. My Holy Communion, my Confirmation. The whole shebang.
I turned to my sponsor, who was to the left of me, as he gave me a worrisome sideways glance.
Second question.
"Why would you denounce your religion, to join one that is in the minority, the often persecuted, the sometimes reviled?"
I again turned to my sponsor who this time did not return my gaze. I looked up at the Bet din. The three Rabbis looked sternly down at me.
I spoke of the surgery my infant son needed, the unhappiness of some, the wishes of others, my faith, my sponsoring Rabbi and his wife whom I had grown to love and respect. My newly discovered congregation of friends, whom I had come to rely and count on. I spoke of my lost family, my dead grandmother, my lost self.
The faces of the Rabbis softened. I could see my pain in their eyes.
"Last question," one of the holy three muttered, barely audible. He'd lost his edge. They all seemed to.
I sat wet and shivering, thinking about how many hours it was going to take me to get home. I was longing to hold my beautiful baby boy; to rock and hum him to sleep with his favorite song, my favorite song, and my grandmother's favorite song. The three of us all with the same favorite song.
"You speak so assuredly of your faith. When you talk of your Catholic upbringing, we see your light. Tell us about Jesus and the role He will play in your Jewish life."
I swallowed hard. The Bet din wanted me to speak about Jesus.
The words, they just spilled out. My sick and dying grandmother denied her last rights because she was excommunicated, my prodigal status, my love of Jesus—a Jew, who was poor, uneducated, adored by so many, then crucified.
I blurted out the morning fight, no car, three buses, my son's surgery, the snow, the hopelessness, the loneliness.  I told them that Jesus was going to love me and keep me safe—today, tomorrow, and always. Jewish, Catholic, whatever. Jesus wasn't going anywhere.
Because that's who Jesus is. He doesn't forsake. He doesn't leave. He loves, He nurtures, He heals.  All of us, not just some of us.
I was on the last question roll.
I explained to the holy three that Jesus was everything hopeful; a constant reminder that even in the ugliest of times when we are full of despair, He teaches us that there is beauty and light and redemption. I was never going to give up on Jesus. And Jesus was never going to give up on me.
And then I sat back in my chair, letting the holy three above me know that I was finished.
The Rabbis looked at each other, one sank in his chair. I again turned to my sponsor. Both of his hands lightly covered his forehead; his elbows bent low to the table. I took it as a bad sign.
My nose was running, and I didn't have a tissue, so I used my damp sleeve as I watched the Rabbi's squirm.
Then the middle Rabbi spoke. His words were kind and soothing. He applauded my resolve, my strength, my faith, my love of my son.
The other two Rabbis nodded in agreement and approval, including my sponsor.
And then it was over. I was on my way to being Jewish! Everything yet nothing had changed.
I took the over three-hour bus ride home, all the time, writing, rhyming, transferring, praying. I wrote and rewrote the following letter to Jesus, to God, to the only Father I ever knew:
DEAR FATHER,
IF I COME BEFORE YOU
AND PRAY
FOR YOUR HELP
BEG
FOR YOUR GUIDANCE
CRY OUT
TO YOU FOR STRENGTH
WILL IT MATTER IF I CALL YOU
FATHER INSTEAD OF
JESUS?
WILL YOU CARE IF
I'M KNEELING
IN A CHURCH
OR IMPLORING FROM
A SYNAGOGUE?
IF MY PRAYERS ARE IN LATIN
OR HEBREW
WILL THE WORDS STILL HAVE
THE SAME MEANING?
WILL YOU STILL HEAL
MY WOUNDS?
 I LOVE YOU NO LESS
 THEN I DID THAT LAST
BLESSED CHRISTMAS.
I WILL LOVE YOU NO MORE
THIS MOURNFUL YOM KIPPUR.
WILL WHO I AM TODAY
MATTER TO YOU TOMORROW?
 I'M STILL ME.
I'M STILL THE SAME.
A ROSE BY ANY OTHER NAME.
I STAND ALONE.
MY LOVED ONES DISAPPOINTED.
ARE THEY PRAYING TO YOU TOO?
WILL THEIR LIVES BE EMPTY
WITHOUT ME?
WITHOUT MY SON?
JESUS/FATHER,
HELP ME FIND MY WAY.
GIVE ME THE GUIDANCE
TO WALK THE STRAIGHT
AND NARROW PATH.
GIVE ME THE STRENGTH
TO MAKE IT ON MY OWN.
AND FATHER PLEASE,
BLESS, PROTECT
AND HEAL
MY BELOVED SON.
When I finally got home, my son was already fast asleep. I was heartbroken to have missed him. I needed his warmth, his life, his love.
I quietly and reverently tiptoed into his room, still wet from my trek. I laid next to his crib and hummed our favorite song, Oh Holy Night.