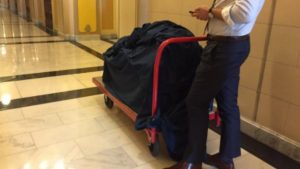 AHCA: The American Health Care Act. You may have noticed that they didn't call it the "Affordable" Health Care Act.
And since the AHCA seems so un-American to me, I came up with my own word-morph to describe it: TryanCare.
Trump and Ryan, they keep on tryin.
Several reporters photographed and described stacks of Bud Lite being wheeled into the Capitol around 2 pm on Thursday, May 4, shortly after the vote to approve TryanCare began at 1:30.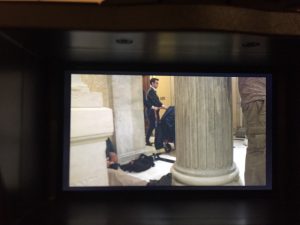 My first thought after getting an email from a reporter friend of mine describing the beer fest was: Alcohol is allowed in the Capital Building? Is that even legal?
So let me get this straight. The Republican Party, who are vehemently "pro-life" for "persons" in the womb, are now celebrating because millions of those very same people could die without proper medical coverage?
And please don't try to explain the moral logic to me.
I know why they were celebrating, and it had absolutely nothing to do with health care.
Let's call TryanCare what it is:
A moral travesty, which will deny health care to tens of millions of "post-fetus persons" for the sole purpose of handing the very wealthy a near-trillion dollar tax cut. Individuals with incomes over $1 million will save an average of more than $50,000 a year. (Pittance to a multi-millionaire.)
There you have it, folks. What better time to wheel out cases of beer on government property?
They had time to plan a 2 pm on-the-job beer bash but not to read the bill or get a CBO score?
And call me parochial, but the Capitol Building seems like the wrong place to throw back a few cold brews. If our Representatives were in a celebratory mood, there are sports bars for that.
And I can't help but wonder how many of our "Representatives" drank at the office and then got behind the wheel of a car for their drive home.
Oh and one more thing: The Center for American Progress estimates that premiums for someone seeking treatment for addiction will rise by $20,000 under TryanCare. But not for members of Congress: Republicans voted to exempt their health insurance from provisions of the health care law.