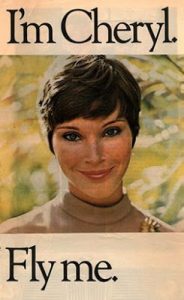 Before the Arline Deregulation Act of 1978, the government was in full control of what the airline industry charged for seats and which routes they received.
The only way for airline companies to compete against each other was to offer the best customer service and flying experience they could.
As a Delta Airlines flight attendant in the early 70s, I worked hard for the money.
Back in 1972, Delta offered a complimentary filet mignon steak dinner and all-you-can-drink champagne in coach.  Business boomed as flyers flocked to Delta for patience, empathy, a man-size slab of beef, and bottomless glasses of bubbly.
(I'll share the good, the bad, and the ugly specifics of my years as a Delta Flight attendant in some other blog post.)
Delta's advertising back then boasted that their flight attendants "walk over five miles on a typical flight."
And trust me, I'm sure I did.
"She hangs your coat, offers you a pillow, comes around with magazines, briefs you on safety procedures, brings you your choice of drinks, serves your meal, pours your wine, answers your questions, helps your children, refills your coffee cup, points out landmarks, takes your tray and brings you your coat. And she takes it all in stride."
(Not to mention, service with a smile, even when the men would pinch or grab my butt.)
Delta hyped us as attractive, considerate, courteous, kind, orderly, personable, poised, polite, truly dedicated, and goes far beyond the call of duty.
(I'd certainly call letting passengers pinch and grab my butt going far, far beyond the call of duty.)
And as if their ads weren't sexist enough, Delta came out with a targeted campaign for U.S. military personnel, offering them a 50% discount for "The guy who's got a girl in every city." The ad displayed six bathing suit-clad women with names like "Your Chicago cutie," "Your San Francisco sweetie," or "Your New York knockout."
I kid you not. And so you don't think I am exaggerating, take a look at the ads for yourself: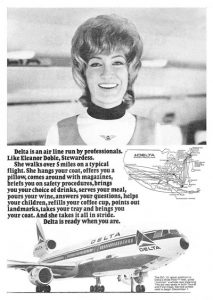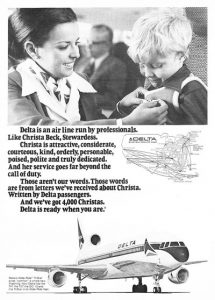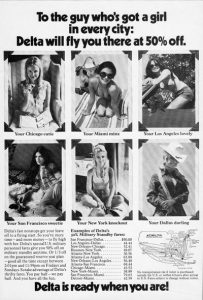 But nothing could beat the sexist "Fly Me" advertising campaign that National Airlines rolled out with, just around the same time.
National offered up their modelesque flight attendants as part of the airline travel experience. The company painted their first names on every plane and mandated that the attendants wear "Fly Me" buttons during in-flight service.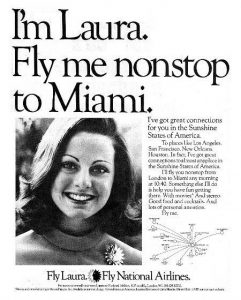 And when their revenues increased by 23% as a result of their advertising, National upped the sexual innuendos in their ads by having their flight attendants look seductively into the camera and softly whisper, "I'm going to fly you like you've never been flown before."
We've certainly come a long way from the '70s.
Fast forward to 2017.
Children with peanut allergies and their families were roughly removed from planes, a young mother who was trying to manage twin babies was hit in the head with a stroller, and a 69-year-old man suffered serious injuries after being slammed and dragged off a plane to accommodate an airline employee.
Good ole deregulation.
And if you're lucky enough to survive an airline personnel bully, you still have to be jammed into a packed plane with no legroom and no food. And how about the dreaded reclining seats?
I wish the airlines would wake up and make the seats immovable. Why they think there is any available space for reclining is beyond me.  It just makes the ride that much more unpleasant.
And I hope that passengers continue to record the antics of airline personnel bullies and stand up and say something if they see something.
I don't expect to dine on steak and champagne in coach, but I'm tired of being treated like a piece of meat.