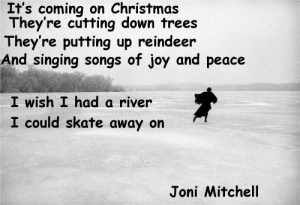 Joy to the world? Not for everyone.
For many, the holiday season, starting with Thanksgiving and ending on New Year's Day serves as a reminder of lost loved ones and a happier, simpler time.
Me? I need to find me a river and skate away…
Joy to the world, the holidays are here
no joy for me, just sadness and fear.
I try to remember the things that meant so much
like my grandmother's smile, my mother's touch.
But year after year I can't seem to let go
of the saddest moments, I will ever know.
During this season, I wish the pain would go away
so I can enjoy just one lousy peaceful day.
For once I want to feel alive and whole
and not let a few weeks take such a personal toll.
I somehow need to figure out a way
to find the light and keep the darkness at bay.