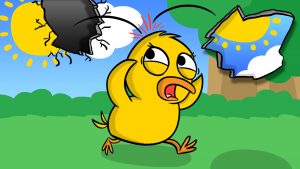 I recently posted the following messages on my Facebook page:
"Right before Trump's recent visit to Poland, the White House insisted that he be met by cheering crowds. So Poland's authoritarian and nationalist Law and Justice Party accommodated Trump and bused in untold numbers of cheering crowds who created the illusion of a strong American leader adored by masses of foreign citizens. WOW."
Followed by:
"Too many people take for granted the freedoms we enjoy in this country. Instead of the left and right and everyone in between going after each other, we should take an "honest" look at what is going on and have the guts to speak up for the truth."
A Facebook friend replied to my posts with the following four words:
"Don't worry Chicken Little."
CHICKEN LITTLE ??????
Now I remember those delicious mini sandwiches at KFC called Chicken Littles. (BTW, only people who were born before the 1970's will remember the fried chicken square, topped with a weensy piece of lettuce and thrown into a mayo ladened bun.)
[I'm pretty sure that my friend wasn't accusing me of being a chicken sandwich.]
I distantly recalled a children's book having something to do with a worried hen, but I had all but forgotten the story line, so I looked it up.
I quickly discovered that Chicken Little was indeed a character in a book also titled Henny Penny.
So I kicked off my research frenzy with:
Henny Penny – The Book
Convinced by Chicken Little that the sky is falling, Henny Penny and a band of gullible friends march off to tell the king, only to meet their end at the hands of a wily fox.
[Whoa. Henny Penny and her gullible friends met their end? I'm most certain my friend meant me no physical harm.]
But Henny Penny's unhappy ending caused me to curiously type on.
Chicken Little – The Book
A folk tale about a chicken who, when struck on the head by an object from above, believes the sky is falling, and the world is coming to an end, causing widespread panic.
[To be clear, I Facebook spoke about fake crowds and telling the truth. Who ever said the world was coming to an end? Although I'll admit, I do believe civility in politics has come to an end. But could my words actually cause widespread panic?]   
And lo and behold, through my continuing and admittedly obsessive research, I discovered that in 2005 Chicken Little was made into a movie!
Chicken Little – The Movie
Chicken Little mistakes a falling acorn for a piece of the sky. After ruining his reputation, the young and inexperienced chicken is determined to restore his good name. But just as things are going his way, a real piece of the sky lands on Chicken Little's head. Now he has to figure out how to come to the rescue of his fellow citizens against the aliens who have started an invasion.
[Hmm. Was my friend suggesting that I had ruined my reputation by posting that people were bused into the streets of Warsaw Poland to fake-cheer for Trump? If so, how will I ever restore my good name? And as an aside, don't expect me to come to the rescue of anyone, because I am a bit of a…chicken.]
Once I googled around, there was no end to the Chicken Little definitions.
Chicken Little (Two Words) – Urban Dictionary
A man with a little penis.
[Obvi not what my friend accused me of, but I do know of a certain "someone" who was accused by Marco Rubio of having this "situation."]  
Chickenlittle – Urban Dictionary – One Word
Nickname for someone who is dumb.
[I sure hope my friend doesn't think I'm dumb! Being called dumb wouldn't be a Facebook-friend deal breaker, but to quote our President, it's not nice, it's not fair, and it's mean mean mean.]
Chicken Little – The Merriam-Webster Dictionary – Two Words
An alarmist or doomsayer. A euphemism for doomsday preppers. Someone who makes a big deal out of nothing. A person who constantly warns that a calamity is imminent. A vociferous pessimist. Someone who makes a big production out of a small event.
[Okay, I will agree that I can be overly pessimistic. Or maybe you could call me realistic. And you got me because I admit that I do think Trump is a calamity waiting to happen. But to be fair, a lot of people feel that way.]
Now you may think what I'm going to say next is way off track, but I can't help my pessimistic self, so stay with me. Don't go anywhere yet.
This past Wednesday, Trump called Venezuela's President Maduro a "bad leader who dreams of becoming a dictator."
Should we call Trump "Chicken Little" because he thinks President Maduro of Venezuela is the opposite of nice, and that he has managed to do a lot of unfair things such as:
Demeaned his opponents, including but not limited to journalists, governors, mayors, and even his attorney general.
Dismantled Venezuela's rule of law.
Overly uses the phrase: "We need order and justice."
Packed the Supreme Court with his loyalists and cronies of his political party.
Appointed Judges who have been overturning laws he and his party oppose.
Approved the Supreme Court's ruling to dissolve the legislature entirely (This move provoked a "Chicken Little" outcry by hundreds of thousands in Venezuela, so the decision was reversed for now.)
Created a political body called the "National Constituent Assembly" who will be tasked with rewriting Venezuela's Constitution and restructure or dismantle any branch of government seen as disloyal to the president and his political party.
Call me stupid, but it looks like Venezuela's democratic sky is indeed falling.
So go ahead—call me Chicken Little if you so choose.
I haven't said the sky is falling—yet.
Because I pride myself in thinking that I am part of the media truth tellers.  And all that talk of fake news, is well, fake. All trumped up so to speak.
And I'm not an alarmist—unless it's time to be alarmed.
If I cry out that "the sky is falling," in all likelihood, it will be.