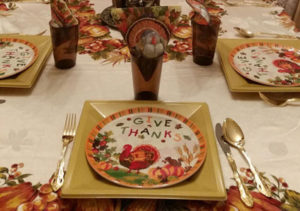 Thanksgiving has traditionally been the one holiday where, like it or not, families get together, chow down, throw shade at each other, and oh yeah, give thanks.
Mothers, fathers, children, grandchildren, brothers, sisters, nephews, nieces and every other iteration of family and friends travel here there and everywhere to get together for some clan time.
Some of this "time" will inevitably be dysfunctional, but we all still participate.
Why?
Because good, bad, or ugly, at the end of the—in this case—Thanksgiving Day, we're all kith and kin together. Hopefully.
And if you're fed up or irked by a particular family member, remember this:
Just because they look like you, doesn't mean they are you.
As challenging and painful as the day might turn out, most of us are celebrating Thanksgiving with our peeps.
We can all agree on two Thanksgiving Day things: Some familial dysfunction, and a hassle getting to your destination.
And while we can maneuver around family characters, there's no getting around the holiday traffic.
Traveling on Thanksgiving Day is plain old horrendous.
And if you come from a divorced family, or are married and or involved with someone, everyone puts the guilt trip on you to show up for their Turkey event.
How many families do you know who strictly adhere to the every other Thanksgiving rule?
Now that we've established that Thanksgiving already poses a real dilemma for many, and is a downright miserable holiday obligation for others, I have two questions for you:
A) Why stress out on the day set aside for giving thanks?
B) Who says Thanksgiving has to be on Thursday?
Several years ago my husband and I asked and answered A & B and came up with our own way of celebrating Thanksgiving: On Black Friday.
No traffic, no scheduling dilemmas, no disappointed families, you can work pretty much all day on Friday, and best of all? No turkey.
But okay, we might still dish out some dysfunction.
Below are some of my Black Friday recipes should you want to change it up next year!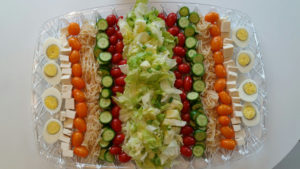 Deconstructed Thai Salad
Serves 8
Dressing:
1 can low-fat coconut milk
1/2 cup peanut butter (creamy or chunky)
1 tablespoon yellow curry powder
1 clove garlic
Juice of 1/2 small lime
Splash of sriracha
1 teaspoon kosher salt (or to taste)
Place all ingredients above in a blender until very smooth. Taste it to make sure you like the combo. If not, add more peanut butter, curry powder or siriracha. Then put it in a saucepan and bring to a boil, then simmer until reduced and thickened about 10 minutes. Cool down completely. Refrigerate until ready to use.
Salad:
6-8 small seedless cucumbers sliced
1 head of iceberg lettuce chopped
I pint of red cherry tomatoes whole
1 pint of yellow or orange cherry tomatoes whole
6 hard-boiled eggs halved
2 cups bean sprouts
16 ounces firm tofu
Place lettuce in the center of a large square platter, and then line up the other ingredients above in a row. Serve with dressing.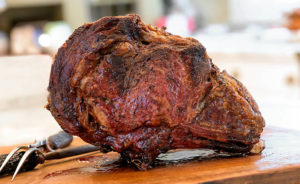 Perfect Bone-In Rib Roast
NOTE:  When ordering a Bone-In Standing Rib Roast, figure you will need one rib per two people. This will also  ensure plenty of leftovers.
So for 8 adults I ordered 4 Ribs (1/2 rack), approximately 8
pounds. The price for 4 ribs was $148.00.
Nobody said this was a cheap meal.
Bone In Standing Rib Roast – 4 Ribs (approximately 8 pounds)
1 stick butter, softened
Ground pepper
Kosher salt
Garlic powder
Place Rib Roast on a plate and bring to room temperature, about four hours.
Then place the meat in a roasting pan that's slightly bigger than the roast itself.
Slather the whole roast with softened butter. Then add salt, pepper and garlic powder to the entire roast.
Preheat the oven to 350°F for at least 20 minutes.
The roast should be cooked at 350 degrees for about 2 hours to 2 ¼ hours, depending on your oven.
You will need to check the roast with a meat thermometer close to the 2 hour mark.
When the meat thermometer reaches 110 to no more than 120 degrees, the roast needs to come out of the oven (for a perfect combination of medium, medium rare and rare), regardless of how long the roast has been cooking.
Remember that the roast's temperature will rise 5 to 10 degrees after you remove it from the oven so remove it 10  degrees before the desired doneness. There is nothing worse than an overcooked rib roast.
Once you remove roast from oven, tent it with foil but put a hole in the foil to keep the crispiness of the outside of  the roast.
Rest the roast for about 10 minutes, and no more than 15 minutes, to let the juices redistribute throughout the  Roast and still be nice and warm. Also, if you decide to pour the pan drippings over it, the roast will cook a little  more as well.
If the roast still isn't cooked enough for your taste, you can always slice it and then put part of it back in the oven  to cook it more. Better to under cook it than to overcook it. And you don't even have to put on the heat, but you  do need to watch it carefully.
The slices taken from the ends of the roast will obviously be the most done, and the middle will be the least done,  so you should be able to suit the preferences of everyone at the table.
Also, remove the rib bones and put them back in the oven on high to crisp them up and then place them around  your roast.
If you want to serve your roast with au jus on the side, save the drippings and see the recipe below!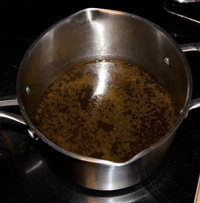 Killer Au Jus
¼ cup beef fat drippings from your prime rib
1 ½ Tablespoons All Purpose Flour
2 Cups Beef broth
Salt & Pepper to taste
Melt fat in skillet over medium high heat. Whisk flour into the beef fat, whisking constantly
while cooking, until the mixture thickens, about 3 minutes.
Pour beef broth into fat mixture, increase heat to high and bring mixture to a boil. Boil mixture
until it thickens slightly, season with salt and pepper to taste.
Ingredients:
4 Cups Broccoli florets
1-1/2 to 2 cups whipping cream
5 large eggs
Salt to taste
Freshly ground pepper to taste
3 Tablespoons chopped scallion (optional)
Nutmeg to taste (optional)
Steam the broccoli (florets only), for 4 to 6 minutes.
Preheat oven to 375 degrees. Generously butter the bottom and sides of a 2-quart baking or souffle dish, 6 to 8 timbale molds, custard cups, or ramikans (each holding about 1/2 cup). I used an 8 cup Charlotte mold, which has slightly flared sides, making it super easy to unmold my masterpiece.
Cut out a circle of parchment paper to fit the bottom of the mold(s); place in the bottom of the mold and then butter the paper.
Then prepare the Timbale mixture:
Place and beat 5 eggs in a bowl.
Set aside 1-1/2 to 2 cups of whipping cream.
Place the cooked broccoli in a food processor or blender and process with the eggs and cream until smooth.
The amount of cream you use will make the mixture more concentrated or more custard-like. I like to use 2 cups.
Season to taste with salt and pepper
Add a pinch of nutmeg if using
Add the scallions if using.
Pulse to mix.
Carefully spoon the Timbale mixture into the mold(s).
Cook the timbales in a water bath: Place them in a baking pan just large enough to hold them, pour in very hot water halfway up their sides and carefully place in the oven. For 1/2-cup molds, cook 15 to 25 minutes; for a 2-quart mold, or an 8-cup Charlotte mold cook 35 to 45 minutes, or until just set.
Carefully loosen around the edges and invert onto a plate.
Tip: You can make the timbale up to 2 days ahead, either in the dish or unmolded. Reheat for about 10 minutes in a 325-degree oven before unmolding.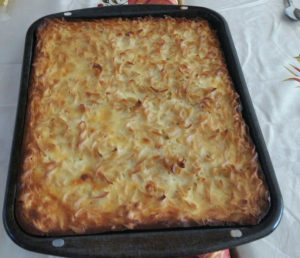 WHIPPED AND BAKED POTATOES
Half of a 5-pound bag of potatoes
Whole milk or whipping cream
Lots of Butter
paprika
Peel and cut up potatoes and cook until done.
Put potatoes in mixing bowl and mash or rice well.
Add butter and milk or cream to taste and mix with a beater until potatoes peak.
Put potatoes into a casserole dish and top with paprika.
The potatoes can be put directly onto a 35o preheated oven or put into the refrigerator until ready to cook.
Bake at 350 degrees for 35-40 minutes or until golden brown on top.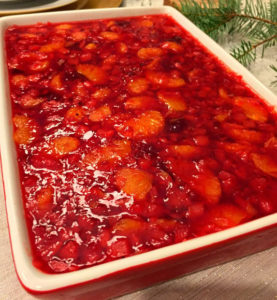 AMAZING JELLO AND CRANBERRY COMPOTE
1 6 ounce package strawberry Jello
1½ cups boiling water
1 16-ounce can jellied cranberry sauce
1 small can of mandarin oranges
1 small can of diced pineapple
1 small can of peaches (cut up in bite size pieces)
2/3 cup chopped walnuts (optional)
Dissolve Jello in boiling water. Stir cranberry sauce in bowl until very smooth. Blend with Jello and chill in refrigerator for 15 minutes. Fold nuts and fruit into a decorative glass bowl and chill until solid. You can decorate the top after it has set with some walnuts and mandarin oranges. I like to make a kind of flower design in the middle.
Serves 6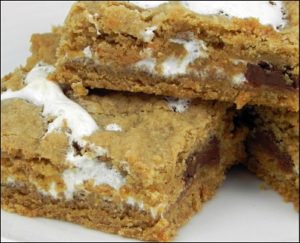 Baked S'Mores
1 package golden sugar cookie mix (Betty Crocker)
1 egg
1 tablespoon water
2 milk chocolate bars (5 oz. each)
1 7 oz can marshmallow Fluff
Preheat oven to 350 degrees. Grease an 8"x8" square pan. Combine cookie mix, (with butter if it calls for it), egg and water in large bowl. Stir until thoroughly blended. Divide cookie dough in half. Press half the dough evenly into bottom of pan. Place each chocolate bar evenly into the pan. Take a clean tablespoon and wet it. Then take the back of the spoon and spread marshmallow crème to cover the chocolate. Drop the remaining cookie dough by tablespoonfuls on top of marshmallow crème. Spread lightly with back of clean spoon. Bake at 350 degrees for 25-30 minutes or until light golden brown. Cool at least three to four hours before serving. Cut into squares.
Happy Thanksgiving!